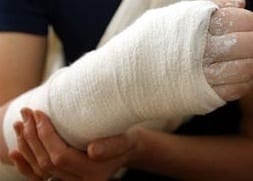 by Andrew Carey
LIMERICK recorded the highest number of personal injuries claim per head of population in 2013, the Injuries Board has revealed.
Limerick accounted for 788 of the 10,000 personal injury awards made in Ireland last year when the total payout amounted to more than €240 million. This represented a 12 per cent increase from the previous year with the biggest single claim recorded at €1.3 million.
The average award for claimants in Limerick city and county was €21,010 while total compensation for Limerick claimants amounted to €16.5 million.
In its annual review published this week the board said it handled more claims as insurers and claimants embraced its lower-cost model. However, the number of accidents and other incidents remained unchanged.
The board assesses personal-injury claims and makes awards relating to motor, employer and public-liability accidents, without the need for litigation.
Due to new practices, direct savings of more than €72 million were delivered in 2013.
Updated litigation cost data indicates total cumulative savings since the board's establishment in 2004 are about €1 billion. These savings relate solely to processing and administration efficiencies.
75 per cnet of awards were for injuries from road traffic incidents while a further eight per cent were related to workplace injuries. Accidents in public places made up 17 per cent.
The average award in 2013 was €22,847, up from €21,502 in 2012.
This was due to a number of higher awards raising the average with over 100 claims resulting in awards exceeding €100,000, compared with 72 such awards in 2012.
The top three counties for awards per head of population were Limerick, Longford and Louth, while the bottom three were Kilkenny, Wicklow and Wexford.
The board's chief executive, Patricia Byron, said its processing fee to insurers had fallen 30 per cent, from €850 to €600, which had seen the cost of processing personal injury claims at historically low levels.
"As regards our outlook for 2014, we are seeing no evidence of increased accident numbers but we do expect to see a continuation of the trend whereby an increasing proportion of claims are processed by the Board and this should mitigate against any hikes in insurance premiums", concluded Ms. Byron.
By law, most personal injury claims must come to the Injuries Board for assessment regardless of whether the claimant has legal representation or not.
Direct claimants can have their claims assessed for a refundable fee of €45.