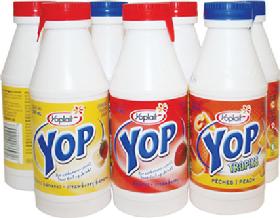 THE rise in heroin use in Limerick has been linked to an increase in thefts of yogurt from city centre stores.
WITH an estimated 1,000 heroin users in Limerick, shopkeepers have had to cope with more than their share of drug-related robberies but even they were puzzled by the disappearance of yogurt products from their shelves.
The upsurge in this specialist end of the shoplifting market is being put down to heroin users having poor appetites and favouring soft and sweet foods like ice cream and yogurt that are easy to digest.
"Heroin users would get very upset tummies and suffer a terrible time. They use yogurt to line their stomachs and to help settle them. They wouldn't have the greatest appetite either so yogurt is something they can easily digest," a Limerick addiction worker explained.
One befuddled shopkeeper on Parnell Street told the Limerick Post this week that the shoplifting of yogurt products was such an issue that they had to rearrange the layout of the store as a preventative measure.
The city newsagent claimed that yogurt drinks such as Yop were being stolen on a daily basis.
"This is happening everyday. There has been a definite increase in the numbers of items such as yogurt drinks, milkshakes and even trifles that been robbed in the last couple of years. They are even coming in and taking packets of sugar," the Parnell Street shopkeeper revealed.
"This kind of theft has become such a problem that we had to rearrange the whole layout of our store to make sure yogurts were in our eye-line. I just can't understand why this is happening, but it's happening all the time."
Another city centre newsagent claims he can gauge when a large shipment of heroin has landed because of the sudden influx of addicts attempting to steal from his business.
"I can tell you there was a big delivery of 'juice', as they call it, last Tuesday night. I know this because groups and groups of juiceheads were in here early Wednesday morning trying to steal rolls of tinfoil to smoke their drugs and yogurts to soothe their stomachs afterwards.
"It's like an invasion of zombies. This problem is a daily reality of my everyday life," he claimed.
"Another thing they go after are the Nestlé chocolate animal bars. In fact, 50 per cent of all the animal bars we sell, is to heroin addicts. They are buying them for the tinfoil and not the chocolate, everyone knows that."