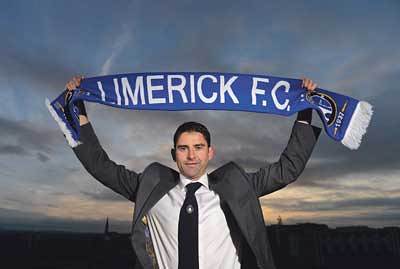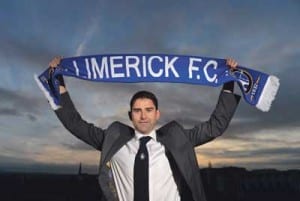 LIMERICK FC manager Stuart Taylor has called on the club's fans to vote with their feet and make their presence known at Thomond Park for the visit of Sligo Rovers on Friday.
The Super Blues are on a four-game unbeaten run in the SSE Airtricity League Premier Division, although Sligo have also improved of late after a slow start to the campaign.
Attendances at Limerick's temporary home have been rather sparse so far in 2014 and, with the team facing its third game in a week, Taylor has issued a call to the supporters to turn out in force and make their voices heard.
He said: "One thing we're looking for on Friday night is a big crowd to come out. Any time the supporters came out in force last year, we got a good result and we'll need them again on Friday. It's our third game in a week and the boys are going to be tired so we're looking for a big support.
"We're looking for the supporters to get behind us as well. We're looking for a good team performance and that's not just the 11 on the pitch. It's the boys in the squad and it's the supporters in the stands and the terraces who go and help us.
"Sligo Rovers are going well right now and we are as well. It's going to be a good game and we need the supporters to get behind us because we have tired bodies. We're looking for the supporters to get very vocal and get behind us, because that huge support will give us a lift."
Limerick enjoyed two positive results over the Easter period, following up Friday's win over Athlone Town with a 0-0 draw away to Derry City on Monday.
For Taylor and his players, there was an initial sense of disappointment that the Super Blues didn't return home from The Brandywell with a third league win in a row, but on further reflection he was content with a point, and very pleased not to have conceded a goal.
"All in all, [it was a good result] when you look back on it but certainly at the time we were disappointed because we didn't come away with three points. We were the better side and it's another clean sheet. It's another point away from home which is good. It's a point more than we had against Derry last year, so again it's progression from last year and we improved on that side of things.
"We were always in control of the game and if a team was going to score it was us as we were the most dangerous. In the second half again we were comfortable. A draw was a fair result to be honest, but another positive to our game is that we've got another clean sheet."
Having picked up just two points from their opening four league games, Limerick have averaged two points per game from their four most recent matches.
That unbeaten run started at the beginning of April following Jason Hughes' stoppage time equaliser at UCD, which appears to be more and more of a pivotal moment with each subsequent result.
Taylor had pleaded with supporters for patience after their disappointing sequence of results last month, stressing that playing resources were stretched owing to a spate of injuries, but with the bulk of the squad now available for selection, the team's fortunes have picked up and the focus is very much on the league positions above them rather than those below.
"There's never been any doubt about the quality in the dressing room. It's just a case of getting people back fit. We've started getting people back fit and we're picking up points from games. We're getting wins and there's no doubt about the quality in the dressing room. It was just a case of saying to people to be patient and we'll be fine.
"We've still got games in front of us that we can go and win. There's still a long way left in the season and we're looking forward to the games that are coming up. We're nearly finished the first round of games and, as I've said before, we're not looking for perfection. We're looking for progression and if we can keep progressing we'll be fine."