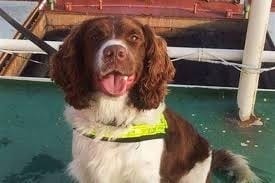 €60,000 worth of cocaine that had been ingested in the form of pellets by two men was detected by "Ollie" the sniffer dog at Shannon Airport in Easter Sunday last.
Officials say that during routine passenger profiling at Shannon Airport, Officers from Revenue's Customs Service seized drugs, suspected to be cocaine, with an estimated street value of approximately €60,000.
Following positive reactions from Revenue's sniffer dog, Ollie, the two Irish men in their 40s were questioned by after they disembarked a flight from Spain.
The drugs were concealed in approximately 100 pellets ingested by the two men.
As a result, both men were arrested by An Garda Síochána and taken to hospital where the ingested drugs were passed under medical supervision.
Officials say that investigations are ongoing.