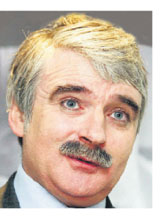 RTÉ's failure to broadcast the recent Special Olympics Ireland Games was met with widespread disappointment by the people of Limerick, according to local Fianna Fáil TD, Willie O'Dea.
"Over 1,500 athletes took part in the games, but RTÉ failed to show any live coverage of the event," he declared.
In response, RTÉ said that while it covered the opening ceremony of the Special Olympics World Games in 2003, it has not to date featured live coverage of the national games. A spokesperson for the station said that it recognises the importance of the games and has traditionally offered a range of coverage across its services.
Meanwhile, Deputy O'Dea also called on Minister Pat Rabbitte to ensure all major GAA games are kept on free-to-air TV into the future. He was speaking this week as the Government begins a review process of which sporting and cultural events should be shown on free-to-air TV over the next three years.
"The recent announcement of a deal between the GAA and SKY for 14 pay-per-view games came as a shock to many with the GAA community throughout Limerick. It has led to genuine fears that the GAA may move towards selling more and more of its broadcasting rights to pay-per-view networks," he said.
Deputy O'Dea insist that people in Limerick should be afforded the right to watch the national game free of charge on the national broadcaster.
"At the moment only the All-Ireland Finals are protected under the current legislation. Many people cannot travel to inter-county games due to prohibitive costs, illness or lack of adequate rural transport. RTÉ is often the only medium by which they can watch games and we need to protect this for thousands of people all over Limerick," said Deputy O'Dea.
The Limerick TD is also encouraging people to make submissions for lesser-known sporting and cultural events which may not be shown at all or on a limited basis. Submissions can be made by email to majorevents@dcenr.gov.ie by Friday August 1 next.
"The submission process is a chance for sporting bodies and cultural groups throughout Limerick to influence Government policy and I sincerely hope Minister Rabbitte gives every submission its due consideration," he concluded.