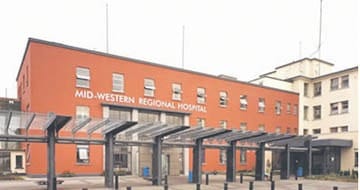 by Bernie English
[email protected]
HOPES have been raised that the development of a new Accident and Emergency Department for Limerick's University Hospital can be fast-tracked.
And the Dáil's Public Accounts Committee heard that hospital bosses have asked the HSE to facilitate a seven-day opening of the Acute Medical Assessment Unit, which currently only opens five days a week.
But the plans come as hospital workers are gearing up for industrial action in protest at high executive pay levels and in the wake of a HIQA report which found that conditions at the A and E were putting patients at risk.
Kieran O'Donnell TD (FG) has confirmed that he had quizzed HSE CEO Tony O'Brien at the recent Accounts meeting  in relation to expediting the delivery of the new A&E at Limerick University Hospital.
"I put it to Mr O'Brien that the shell of the building was currently complete and that all that was outstanding was the fit-out of the A&E facilities.
Deputy O'Donnell said that it was not acceptable that Limerick patients should face two more winters of the current conditions at A and E. The HSE CEO undertook to update the Deputy with the options to bring the opening date forward and he also told the committee that hospital management has sent a request to the HSE for support in opening the Acute Assessment unit every day.
Meanwhile, IMPACT staff in Limerick have voted for industrial action which will see staff refusing to answer to the hospital manager and will not affect delivery of service, the union claims.
The action is being taken after it was revealed that the Limerick group of hospitals had paid a senior manager, employed under a contract arrangement, €258,000 over a 13-month period since last year.
If the post had been filled directly, the salary would have been around €116,000
Impact assistant general secretary Andy Pike said: "The money spent employing just one management consultant would cover the costs of at least five clerical staff".
Mr O'Brien told the Public Accounts Committee that the post in Limerick had been publicly advertised on two occasions but could not be filled.
Meanwhile, former hospital CEO Ann Doherty, was at the centre of another appointment issue when Cork's city councillors took the unprecedented decision to defer her appointment as the city's new chief executive.
It is the first time that the council has departed from what is normally just a routine rubber-stamping of a candidate recommended by the Public Appointments Service.
Members said they wanted time to meet to hear her vision for the future of the city.