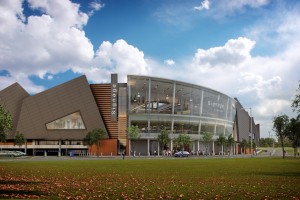 by Claire O'Brien [email protected]
A retail project on the outskirts of Limerick city that was left desolate during the property crash,is set to be completed in a €100 million redevelopment.
The Horizon Mall project represents one of the largest private sector investments in the Mid West, with 500 construction jobs and 1,500 retail jobs expected to be created when completed.
Suneil Sharma,a Belfast-based developer will lodge a planning application with Limerick City and County Council, to complete the partially-built Parkway Shopping Centre on the Dublin Road. Approval is being sought to amend the existing planning permission for the site and to reduce the project's scale. Its core elements are intended to be retained.
Mr Sharma said that its prime location has already created interest from several international retail brands, many of which would otherwise not consider locating in the city. He said that "Marks & Spencer have agreed to take 100,000 square feet in the new scheme-their largest store outside Dublin".
A spokeswoman for the project said that the jobs at Horizon Mall will generate in excess €35 million of income for the city and local economy.
Mr Sharma indicated that he will support an employment training scheme in the area ,to ensure that as many local people as possible get jobs in the new development.