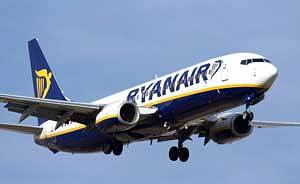 RYANAIR has announced two new routes out of Shannon airport, bringing to 11 the number of routes it will operate from there this winter.
The airline announced that it is to add a daily Manchester service, replacing a three times weekly Liverpool service, and a weekly flight to Kaunas in Lithuania, as well as extra flights on Stansted, to its winter schedule, starting at the end of October.
Peter Bellew, the budget airline's marketing director and airport CEO Neil Paykey, made the announcement at a press conference in King John's castle.
Mr Bellew said the Manchester flights will have a "much larger catchment area," and will deliver more inward-bound passengers to Shannon.
Asked if the airline had been given a sweetheart deal to get it back into Shannon and whether the deal is sustainable, the airport CEO said that they were "well aware in our dealings with Ryanair that we were not the cheapest airport".
Mr Bellew agreed but said that dealing with airports is "not only about money. We've seen what the team at Shannon can do – we give them new routes and they get up off their backsides and go out and market those routes themselves".