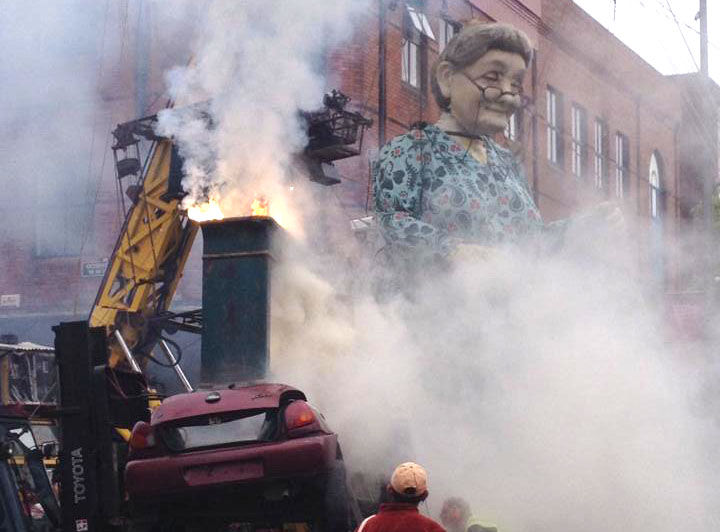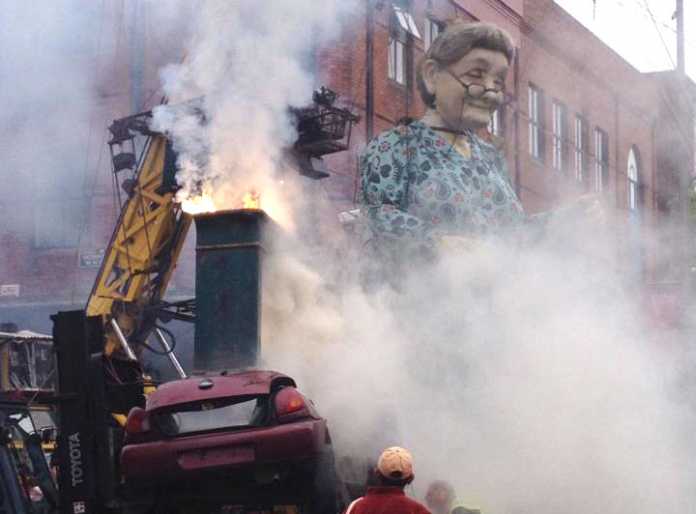 Andrew Carey
A MAJOR multi agency investigation is underway in Limerick following a mid day explosion in the city centre that happened amongst pedestrians, children and visiting tourists.
As revellers in the 2014 City of Culture soaked up the end of the Summer sun, a large explosion occurred at a car which had been earlier hit with a large metal safe on O'Connell Street.
The deafening sound and pyrotechnic explosion could be heard throughout the city, but thankfully there have been no reported injuries. A bus full of potatoes are said to be unharmed but were shaking in their jackets.
Eye witnesses say that an elderly grandmother, who was seen in the area, had a lucky escape. She had been reading a book at the time and engaging with the locals just moments prior to the explosion.
Limerick Post News and Sports reporter Liam Togher was at the scene on O'Connell Street when the explosion took place.
Describing her as a "jolly giant granny", Mr Togher said that the explosion caused "great alarm" amongst the pedestrians.
The grandmother, weighing over 4 tonnes and standing 30ft tall, is said to be recovering at a temporary resting area in the city near Colbert Station. She is to be moved later today and is to receive overnight care in Sarsfield Barracks courtesy of the Army and Department of the Defence. The Minister for foreign affairs is also said to be liaising with officials from the grandmother's home place.
Intergalactical law enforcement agencies are co-operating with members of An Garda Siochana who were also at the scene of the explosion this Friday.
Their investigation is understood to be focusing on a number of "smaller individuals".
Mr Togher said that he noticed these smaller characters "dancing around in red costumes".
Large areas of the city have been cordoned off as the investigation continues.
It has also been reported that incidents of public urination and flatulence occurred shortly afterwards at a main intersection in the city.
CCTV footage is being harvested from a number of locations and photographic evidence shared on social media is to be gathered to determine if any arrests are to be made.
Witnesses are asked to share information they may have on either Twitter of FaceBook.