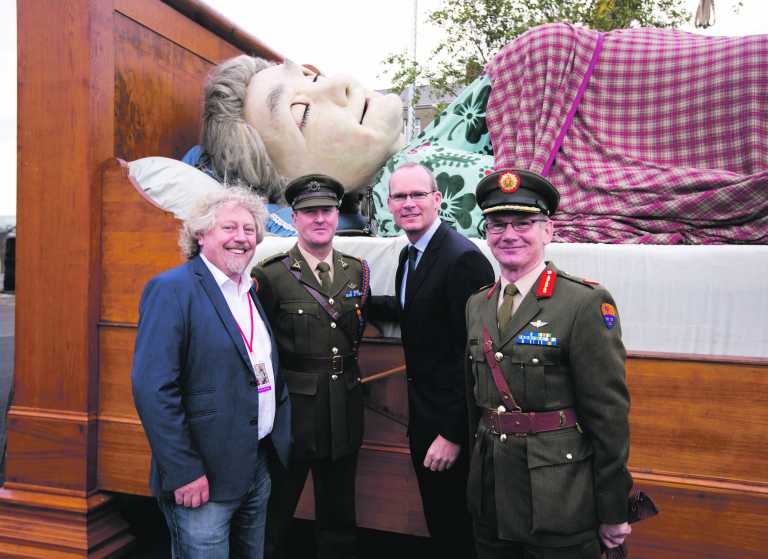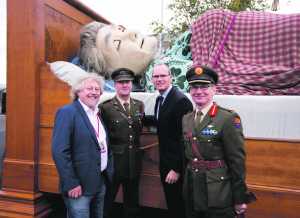 MORE than the 25ft co-ordinates of Grandmother's joints articulated over the weekend with new achievement on a scale such as this: the placement of Limerick on a virtual as well as geographic map in the eyes of the world and hopefully, its investors and travellers.
With 230,000 in procession through the city over the three days in Grandmother's footsteps, buoyed by vanilla farts and pipe smoke, Limerick City of Culture's controversial highlight proved a resounding success. And while 'legacy' is a word regularly invoked in City of Culture conversations, i.e. the resonance and upward contribution to the Limerick's identity, culture and economy in years to come, the city fathers have an investment in Grandmother way beyond the sunshine of her smile.
From the ramparts of King John's Castle, the movers and shakers had gathered to view and review the situation.
"This has been a huge amount of of behind the scenes with respect to logistics and procedural work," confessed Paul Foley, senior executive office with City of Culture and landscaper for Grandmother routes. He referenced "the 14 park and ride or park and walk facilities enabling so many people coming into they city centre. There are 30 Lilliputians pulling Grandmother, 12 of them from Limerick and about 200 people involved in this project all told.
"We had huge support from the local authorities and the gardai and communities. It's a tribute to the city how very positive and co-operative this has been, the biggest logistical operation to date. People can see Limerick in a different way and a new way. This can forge the way for something else for us down the line".
Chairperson of Shannon Group PLC Rose Hynes was also looking down on creation, having completed the transfer of Shannon Heritage and six castles (ownership of five, Malahide's to manage) to the airport authority domain on Friday September 4. She welcomed the avenue this opened to "joined up" planning for flights and tourism.
Re recent airport business, the uptake in traffic "was notable but I can't attribute that to Grandmother alone. Figures for August are not issued yet but are very good, in excess of last year's, up 20 per cent. We have expanded on UK traffic with Ryanair being hub".
The man spearing the sale of this city as a destination overseas, CEO of Limerick Marketing, Eoghan Prendergast, spoke of the "deep significance" that the triumph of the Royal de Luxe Giant had for Limerick: "Firstly, it manifests our ambition and ability to run international events and what it means to showcase the city and riverside in a global context.
"This weekend has boosted our place in worldwide media. The Huffington Post is here, Indian media, the British with a group in from Liverpool and their exposure putting Limerick on the map".
From the cultural point of view, being able to hoist Grandmother into the top league of performance acts bodes well, her showcasing of the river, the city centre, how the people live, "that she was in Russell Park, in Lee Estate and will bed down by Shelbourne Park. She is visiting Limerick and lots of parts of it.
Mr Prendergast underlined that "from this, there is huge potential to build for us. This is a remarkable reference point for people overseas to see what we can do".
Finance Minister Michael Noonan was beaming as much the old dame herself at "this high point of City of Culture". Grandmother's forcefield was "symbolic of how with the young and old, she is unusual in her magnetism. When did you see so many people out on the streets and all of them smiling? We had 70,000 in Limerick here yesterday [Friday 5] according to the garda headcount".
Reasons to be cheerful carried into his prediction that "figures have improved for The Budget but we need another month's, September, to finalise. There will very little further in taxes or cutbacks as the [forecast] cuts of up to €2billion will not now be taking place".
"I was out in Raheen yesterday at the Regeneron plant," continued the Limerick Minister, "where there are a lot of extra jobs, 500 on site in construction already. These are the quiet good news stories, as much as Grandmother".