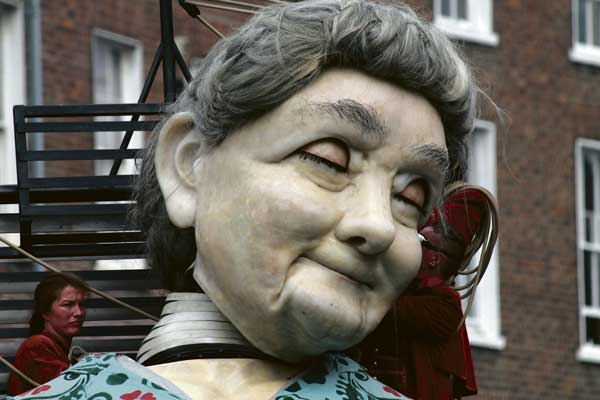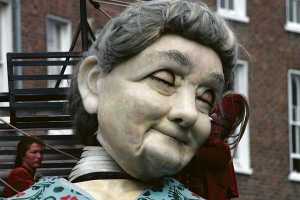 GRANDMOTHER Giant won the hearts and smiles of Limerick people as she pounded the city's streets last weekend.
The centrepiece of Limerick's National City of Culture year, the loveable old-timer captivated an estimated 230,000 spectators during the visit of the Royal De Luxe street performance troupe.
The huge puppet paraded around the city, stealing a place in the hearts' of all who set eyes upon her playful gaze over the three days.
However, a delay on the last leg of her visit detracted from a hugely memorable experience for those left waiting to see her last Sunday.
The City of Culture festivities got too much for the flatulent pensioner and her final day's schedule was thrown into disarray when she set off on her journey two hours later than advertised due to a technical hitch with the giant puppet.
One spectator who contacted the Limerick Post commented, "Photographers were there just to get that picture of granny on the river. That was supposed to be the million dollar shot, but it never happened. For all the money that was spent on bringing it to Limerick, and as amazing as the show was, the final act never took place. It's important that Limerick be seen as a city that can get the job done and get it done right, but we failed to deliver the last act with granny leaving on the Shannon."
"Instead of heading up the river on a barge, she went to bed outside Brown Thomas'. It made no sense and I heard one child ask his mother, 'is she dead?' Granny leaving on the river would have been a spectacular end to an amazing weekend. I'd like to know why they couldn't get this integral part of the production right after the months of planning and all the money that was spent?" he asked.
A statement from Lindsey Holmes Publicity (LHP) last weekend revealed, "Granny overslept this morning due to a technical issue (too much whiskey last night!!), which caused a small delay to the start of her journey. The technical issue also means that she cannot leave by boat. She will now end her Limerick journey on O'Connell Street where she will have her final nap after her exhausting and exhilarating trip around Limerick."
When contacted this week for a more comprehensive explanation, LHP stated, "The delay in Shelbourne Park, which was caused by some technical issues, had a knock-on effect on the rest of the day causing Granny to miss the boat. After all, it is a live show."