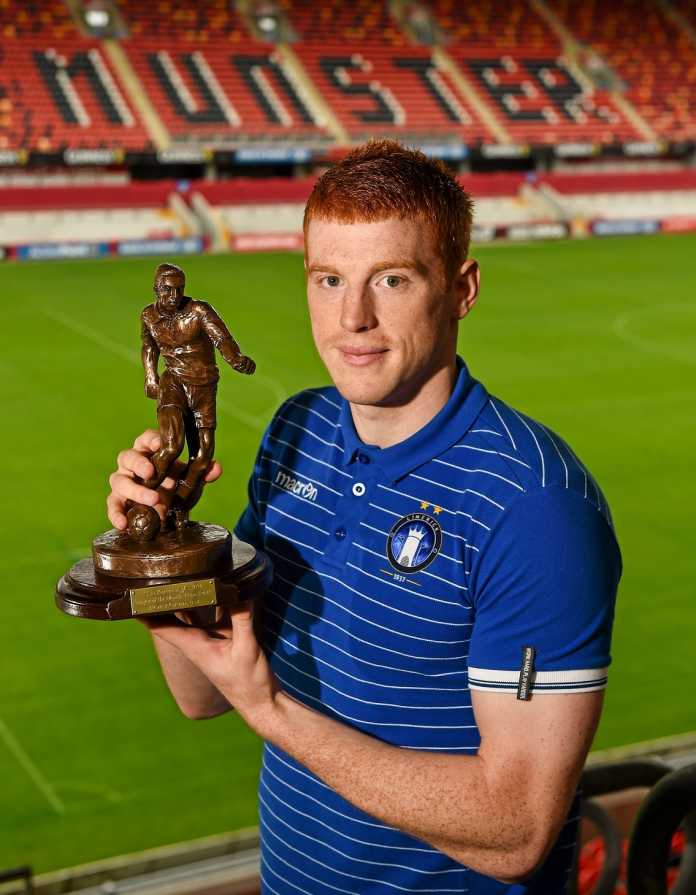 UPON receiving the SSE Airtricity/Soccer Writers' Association Player of the Month for August at Thomond Park on Thursday, Limerick FC striker Rory Gaffney saluted the addition of several potent attacking midfield options who joined the club in mid-season.
A year of upheaval on Shannonside has seen key players Craig Curran and Danny Galbraith depart, as well as manager Stuart Taylor making way for Martin Russell, who signed Ian Turner, Lee-J Lynch, Kieran Djilali and Jack Doherty in July.
Gaffney was quick to acknowledge the contributions of those behind him, saying: "It's nice to be recognised, especially in the Premier Division. The only other award I got was the PFAI award in the First Division a couple of years ago. I struggled for form and injuries last year and I've had a good month in August so I'm just happy that it's got the recognition.
"If you look at the start of the season we had a couple of injuries. The squad was small as it is and then Craig Curran and Danny Galbraith left. We were very short on attacking players. We had central midfielders playing on the wings, whereas now that Martin has come in he's brought in Kieran, Jack and Lee-J. That's three attacking players who have come into the team, and Ian Turner as well, so we had more options and I think it's probably down to that. We've got more strength going forward and we're scoring more goals."
The cast list in midfield has changed considerably since Gaffney joined Limerick in 2011, but one constant in that time has been the presence of the Galwegian in a lone attacking role.
When asked if he would like to have another striker alongside him to shoulder some of the responsibility, he calmly replied: "I never really thought of it like that. I've always played up front by myself. Whatever the formation has been I've enjoyed it. I've never played up front with someone so I don't know what it's like, but I don't think it really affects me who is playing. I've a job to do and if I do it I'll score goals. If I don't I won't score goals.
"Ian Turner has got a few goals since he came in. I play up front and we play five in midfield. They create the chances, they do the work outside the box and I'm just there to put it in the net. I suppose I get the headlines because of that, but the work is done further out the field."
Gaffney was the subject of much speculation during the July transfer window, with a move to Sligo Rovers heavily mooted, but he insisted that he is in no rush to leave Limerick.
"I just want to finish out the season and do as well as I can to have myself in the strongest position. It's good to have options but I've been at Limerick for three and a half years now and I've enjoyed it, so I wouldn't just jump ship at the first opportunity.
"I was in college until May of last year so I always wanted to be at this side of the country. Limerick was the closest Premier Division team so I always wanted to play for Limerick. Galway are back in the league now but they're in the First Division so while I was in college I always wanted to stay with Limerick."