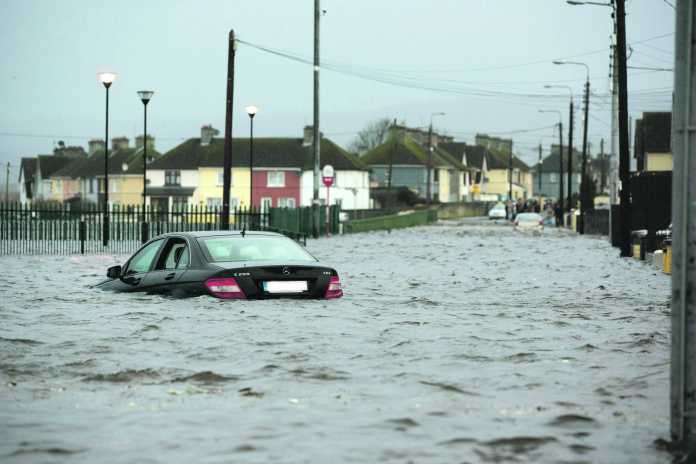 Kathy Masterson
A NEW steering group charged with delivering a permanent flood defence scheme for St Mary's Park will meet within a fortnight, it was announced this week.
The group, led by Limerick City and County Council, will identify, design and deliver a scheme of flood management and flood protection measures for the area, which was hit by severe flooding in February of this year.
Minister of State Simon Harris, who is responsible for the OPW, was in Limerick on Monday, October 20 to meet with Council officials and to visit Kings Island to see the current flood defences firsthand.
Describing the move as "a concrete step forward for the residents", Minister Harris said: "Once the planning issues are addressed and once it's through the planning process, the OPW will fund it and provide all the technical advice and assistance that we can."
When asked about the amount of funding that will be provided for the flood defences, Minister Harris replied: "The level of funding will depend on the final scheme. But whatever the level of funding required, we've already given a commitment since last February that that will be provided."
The Minister added that it was difficult to provide "an absolute timeframe" for the project.
"I envisage the steering committee will meet in the next fortnight, that steering committee will meet with appointed consultants to design a scheme. Once that scheme is designed we'll go out to public consultation on that scheme and I would hope that that will happen early next year. "
Minister Harris insisted that there is "an absolute commitment" from the OPW to fund the scheme, to provide all the necessary technical advice and to sit on the steering committee.
Membership of the steering committee will comprise senior staff from within the local authority, while the OPW will be invited to nominate technical representatives to sit on the committee.
Consideration will also be given to other stakeholders such as Clare County Council, the ESB and the Shannon Foynes Port Company.
Independent councillor John Gilligan, whose own home was flooded during February's storms, said he was "delighted" with the announcement.
He told the Limerick Post: "There's three things he (Minister Harris) has given us: he's given us a blueprint of how it's going to be managed, which was vitally important. We didn't want it to go to the Office of Public Works, we wanted it to be managed locally.
"He has given us a timescale of which this new body will be set up, which is within the next couple of weeks, and he's given a very definite commitment that no matter what it takes, it will be done. I'm normally a cynic when it comes to politicians, but I'm delighted", Cllr Gilligan said.