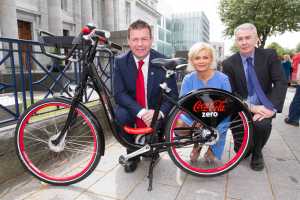 THE Coca Cola Zero Bikes scheme will come to Limerick on Monday December 8, the second stage of a three-pronged campaign which also takes in Galway and Cork on separate dates.
As part of the scheme, 215 bicycles will be available to hire from 23 locations across the city, ranging from King John's Castle to Mary Immaculate College and O'Callaghan Strand to St John's Cathedral.
Bikes can be hired from any of these locations once customers are given a combination code to unlock their bike, which they can use for their desired length of time before returning to a specified location.
The scheme is being made possible following an agreement by Coca Cola Ireland to partner with the Department of Transport, the National Transport Authority (NTA) and the cities involved and will be known as Coca-Cola Zero Bikes. Through the partnership agreement, Coca-Cola Ireland will invest €3million over five years in the project, supporting the operation of the bikes.
Frank O'Donnell, General Manager of Coca Cola HBC Ireland and Northern Ireland, said: "We are delighted to be in a position to help bring the Coca Cola Zero Bikes Scheme to Limerick. Our investment in Coca Cola Zero Bikes is part of our wider commitment to help encourage active healthy lifestyles and we hope this scheme will enable more people integrate cycling into their everyday lives, with the option of a healthier and happier commute."
The NTA is calling on the people of Limerick to pre-register on www.bikeshare.ie so that the bikes can be availed of as soon as they are live on the streets.
Customers who pre-register will get a 50 per cent discount, receiving a special offer of €5 for annual subscription.  This special offer extends to the end of 2014. When a customer registers for an annual subscription, they will receive a Welcome Pack in the post containing details of the scheme and a subscription card.