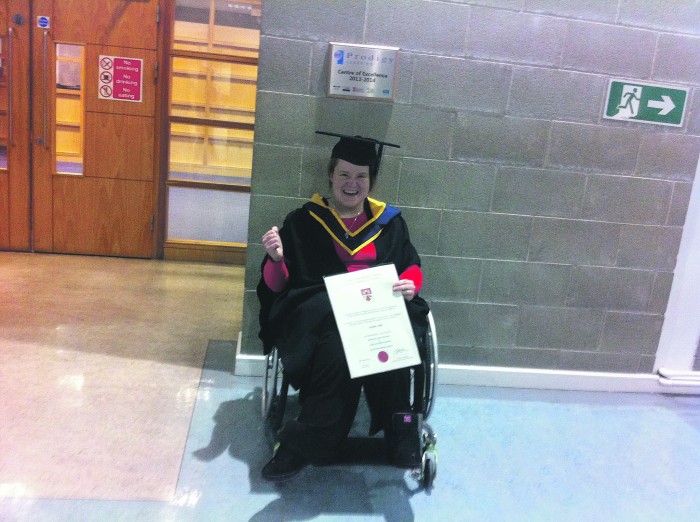 A LIMERICK woman who has been in a wheelchair since birth has highlighted the importance of the services offered by the Irish Wheelchair Association (IWA) during its recent IWA Angel campaign.
Georgina Lubek (32) recently graduated from Limerick Institute of Technology (LIT) with an honours degree in Audio & Video Production. She explained how the IWA has helped her in so many ways providing her with personal assistants required for day to day living. This has given her an independence she has always wanted, which without the organisation would never have been possible. It has also given her the opportunity to partake in one of its group sports such as Boccia, which she finds most enjoyable.
She said: "I'm very involved in a media group that they started up in April 2012, as a result of which I have had the opportunity to write articles online. I've done four blogs and, as a result of one of the blogs, I got to interview two people with disabilities for the magazine called SpokeOut, a quartely magazine with contributions from members who make their own submissions."
In addition, Georgina also completed a week-long placement with Upbeat On Air, a pop-up radio station which promotes positive mental health, which she described as "the best experience I've ever had". She completed this during Mental Health Awareness Week (October 6-10), with the broadcast coming from St Patrick's Mental Health Services.
When she finished in St Mary's Secondary School in 2003, she had hoped to study radio broadcasting in Dun Laoghaire, but the practicalities of being in a wheelchair forced her to defer the course for two years, after which time she suffered from illness.
Georgina was later accepted into a radio production course in Limerick College of Further Education (LCFE), of which she spoke very highly. Subsequently she went on to further her studies at LIT, where during her time studying there she received every possible assistance to achieve her goal.
Having sought to move from Limerick after her Leaving Certificate, and having been denied the opportunity to do so, she said that the LCFE course ultimately made her glad that she remained in her native city.
"When I applied for the course in LCFE I thought 'I hope it's OK' but it turned out brilliantly. It actually made me want to stay in Limerick to gain my contacts here and it was the best downfall that could have happened. I learned a lot, gained contacts and gained friendships."