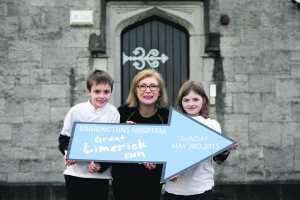 THE Barrington's Hospital Great Limerick Run — one of the largest mass participatory events in Ireland — is gearing up for its sixth year off the starting blocks on Sunday May 3 and is shaping up to be the biggest and best yet.
Launched this Monday, the event is estimated to be worth €4.5million to the local economy, with over 2,100 already signed up over various race distances. With the huge level of early registrations for this year's event, organisers are already expecting to exceed last year's participant numbers of 12,200.
The run is now the biggest events outside of the Dublin marathon and the only 'tier one' event in the Mid-West region. Since the inaugural race in 2010, over 41,000 people have crossed the finish line raising €1.1 million for various charities while simultaneously contributing €10 million to local and regional business.
According to race director John Cleary, there are many reasons for the continued success of the event.
"We have to acknowledge the huge levels of support from the people of Limerick and beyond who have demonstrated that the Barrington's Hospital Great Limerick Run is now firmly established on the Irish sporting calendar".
"The support and commitment of Barrington's Hospital as title sponsor along with Limerick City and County Council and other commercial sponsors including sports apparel company Brooks UK and Ireland reflects the confidence that all stakeholders and partners have in the future growth potential of the event," he added.
Managing director of Barrington's Hospital, Denis Cahalane, says the race is a "natural partnership" for the hospital in terms of promoting a physically healthy and active lifestyle.
"We are proud to continue our title sponsorship of an event that promotes Limerick in a positive manner on a national and international scale," he commented.
Special Olympics Ireland is the official charity partner for the event, which sees 75,000 hours of physical activity generated as a direct result of the race.
In anticipation of the demand for places in the children's 'UL Sport Run for Fun' which takes place in the University of Limerick on Saturday May 2, capacity has been increased to accommodate 3,000 children this year. This event has to date raised over €50,000 for those primary schools with participating children.
A new 'app' for the event will be launched shortly that will contain useful advice on training programmes, nutritional advice along with information on various local services for those visiting Limerick over the May Bank Holiday weekend.
Further details at www.greatlimerickrun.com