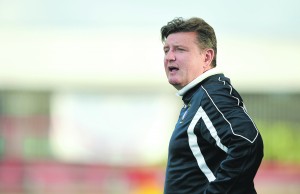 LIMERICK FC manager Martin Russell is backing his young squad of players to develop into regular first-team footballers ahead of the beginning of the 2015 SSE Airtricity League season.
The Super Blues have had a horrendously difficult time of late off the field, but having acquired Jackman Park as a temporary base for home fixtures while work continues on Markets Field, attention can now turn to matters on the pitch as Limerick begin their league campaign at home to Bohemians on Saturday.
With Rory Gaffney, Barry Ryan, Samuel Oji, Stephen Folan, Shane Tracy, Samuel Oji, Kieran Djilali and Lee J Lynch all leaving the club since the end of last season, the parlous nature of Limerick's finances has forced Russell to turn primarily to young, local talent to put a squad in place that can compete in the Premier Division.
The manager is no stranger to working with young footballers, having unearthed more than his share of diamonds during five years in charge of UCD, and he pointed to experienced players such as Robbie Williams and Shane Duggan who can complement their younger team-mates.
Russell said: "When the budget was revealed and players moved on for whatever reasons, for us there were going to be more changes than most squads. That's not an uncommon thing in this country, but for the ones that we have and the young players who are coming into the fold, it's their chance to show what they can do and they'll be encouraged to represent the club in the best way.
"I've had a bit of experience from my time with UCD in terms of blooding young players who, a few years' later, are winning leagues and moving across the water. I've seen fledgling careers blossom and I think we've got a few young players in the club, added to the senior players, who will probably come in throughout the course of the season to make us stronger as we go."
The manager admitted that it was a blow to lose so many proven, experienced players over the winter months, but he accepted that Limerick are operating under a new reality and cited the lack of match action in pre-season as his main concern.
"From the training point of view, the biggest thing has been getting the squad together. The facilities that we have at UL have been in place since last season, so that hasn't really changed. We would like to have had more friendly games on board, and on better surfaces as well, but there are established clubs in the Premier Division who have only had X amount of games on their home patch, even in pre-season. We've had to work through those type of issues and now we're looking forward to the kick-off.
"Particularly in the League of Ireland it seems to be a year-to-year thing where there are very few clubs with structures to plan two or three years ahead and get players on longer-term contracts, which is probably the ideal thing to do. There seems to be more wholesale changes in this league than anywhere else."
Limerick go into their first league outing of 2015 on the back of a morale-boosting penalty shoot-out win over Cork City in the Munster Senior Cup, something that has given Russell plenty of encouragement as he turns his focus to a date that has been marked in his calendar for some time. He added that he is pleased to see the game being played in Limerick, with the scenario of it being moved elsewhere being mooted in the wake of the Markets Field delay.
"The pleasing thing about the Cork game, albeit in the Munster Senior Cup, was that we were playing against a seasoned, experienced side. We had four under 19s on the pitch at one stage and the performance level was pleasing. The pitch was difficult for both sides but I couldn't have asked more of the group on the day performance-wise.
"We knew we were going to start on the same day as the rest of them, albeit we've changed our fixture to the Saturday. The kick-off was always Bohemians at home and the uncertainty of where we were going to play that was not a major thing. I'm just glad that we have it in the city, as opposed to giving away home advantage.
"Other than that, the lads have been working hard in training and doing things you would normally expect them to do in training. We've had seven weeks now of pre-season training. We've had a look at a few players and we've tried to bring in what we could. The aim has always been to produce a side that can be competitive and try to play in an entertaining manner for the people who come and watch."
While Limerick's attendances have not exactly been plentiful since returning to the Premier Division in 2013, and the off-season turbulence unlikely to help boost the numbers passing through the turnstiles, Russell has called for football fans in the locality to make a difference sooner rather than later.
"You'd like supporters to say that when Limerick needed them, they were there, and rather than jumping on the bandwagon when things are going well, they can say there were there at the start. If they come out and support the club throughout the season, I think the medium- to long-term future of the club should be in a strong position when the Markets Field is established and when the Bruff academy and training centre is up and going.
"If we can get the right investors' response and the supporters to add to that, there's no reason why Limerick won't have the structures that any of the top clubs wish they could have. It is a transitional time but anyone who comes on board now can say they were there at the start and that's a good thing to say rather than jumping on the bandwagon later."