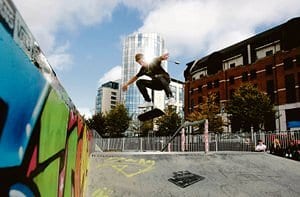 by Bernie English [email protected]
AVRIL Lavigne may have sung about just being a skater boy, but like the hero of the song, Limerick's very own skateboard park could be destined for big things.
Fine Gael councillor Daniel Butler asked Limerick city and county council to make some small adjustments to the park which, he said, could make a big difference in putting the city on the map when it comes to the competitive aspect of the popular urban sport.
"We have a world-class skateboard park that attracts people from all over the country and from Europe as well," he told last Monday's meeting of the city's Municipal District.
Cllr Butler pointed to the popularity of the sport and the fact that there are now national and international competitions for skateboarding.
"The adjustments I'm talking about wouldn't cost a lot of money. It would simply involve changing the gradients of some of the ramps to allow some more complicated manoeuvres.
"This would upgrade the facility to a point where Limerick could host national competitions," he said.
Cllr Butler said that skateboarding has become a hugely popular urban sport among young people.
The skateboard park is now seven years old.
Fans of the sport waged a five-year battle against fears that the facility would attract anti-social behaviour.
But campaigners had cause to celebrate in 2007 with the government and Limerick City Council chipping in €125,000 each to build the facility.
The meeting heard that the council staff are happy to look at the facility to see what is needed on recommendation from the elected members.