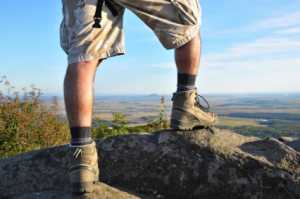 by Bernie [email protected]
IRELAND's first walking festival will celebrate its 21st anniversary when the Ballyhoura Walking Festival takes place from May 2 to 4.
More than 1,000 walkers are expected at the international festival. Together, they will cover a total of 20,000km and burn 40 million calories over the May bank holiday weekend.
That's 200 million steps, or more than 40 times the length of Ireland.
The festival will involve guides from the Ballyhoura Bears Walking club leading a packed programme for all abilities – from the hardy hiker to gentle ramblers enjoying the company of local experts in the fields of heritage, archaeology, history, flora and fauna.
Ballyhoura Country features 1,500km of National Loop Walks & Way Marked Ways, including the historic Ballyhoura Way. Every year, new routes are chosen for the festival which attracts walkers from all over Ireland and visitors from as far afield as South Africa, Germany, the Czech Republic, France and the UK.
This year will also feature over 30 special community walks suitable for all abilities and ages covering areas of special interest throughout the whole Ballyhoura region.