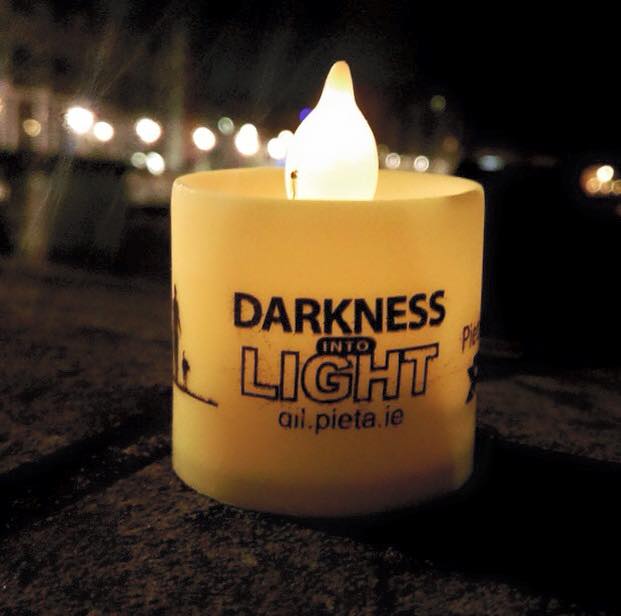 Our reporter Aoife McLoughlin shares her experience of the recent Darkness Into Light walk in Limerick
by Aoife McLoughlin
BEEP, beep, beep, beep – the sound of my alarm jolts me from a cosy sleep. I pick up my phone and as my eyes combat the glare, I can see it's three am. It's time to get up. I dress myself quietly and tip toe from the house to my car. I drive across the city and join the convoy of cars crossing the still moonlight waters of the River Shannon to Thomond Park. The reason is: I am about the do one of the most powerful and important 5 kilometre walks of my life – in the hopes of saving someone elses: Pieta House's Darkness Into Light Limerick 2015.
Some ten-thousand men, women and children, dressed in the symbolic Darkness Into Light t-shirt, have come together in a show of solidarity for suicide prevention. And it is with this realisation, it is hard not become overwhelmed with pride, love and sadness.
Just one week after the buzz of the bank holiday River Fest, there is a different air surrounding the city on this night – a solemn air of connection and unity. In Thomond Park, The Unity Gospel Choir lift the hearts of the walkers with the harmonious and hopeful sound of "Love shine a light".
As we take off, passing Hassett's Cross towards King Johns Castle, a group of teenage girls to our left take a selfie to mark the start of their journey. To our right, two women in their eighties, who can only be described as your steroetypical Irish grannies, donning their DIL t-shirts, pass us out as we reach a bottle neck at the Treaty Stone. The site of the castle and the catherdral as they illuminate from across the river, aptly remind us that Limerick is rich with a history of coming together to battle through harder times. And now we too will become part of that history.
Candlelight dances across Sarsfields Bridge guiding us through to Honans Quay where messages of hope are projected onto the wall of St. Micheals Rowing Club. A sea of yellow envelopes the river at boths sides along Harveys Quay, often slowing at times as hearts sink with sadness as we pass glowing memorials of missed loved ones, tragically lost to suicide. As we cross the Shannon bridge on the last leg of our journey, the moonlight fades and birds begin to sing as dawn breaks. Tummies are rumbling and thoughts of breakfast and bed are on our minds.
Suicide and self-harm is indiscriminate. It can afftect anyone of us. 13,400 people across the county, came together in aid of Pieta Houses – whose focus is to save lives and to change the social fabric and the conversation around suicide and self-harm.
In Limerick 10,000 people poignantly crossed the bridges that unify our city for those who are at the end of their reserve. This year, people in 80 locations across the world walked through the darkness, a darkness that some so desperately want to escape, and they walked into the light to show that that things can and will change with a little help. Help is there.
www.pieta.ie
Mid-West
061-484444