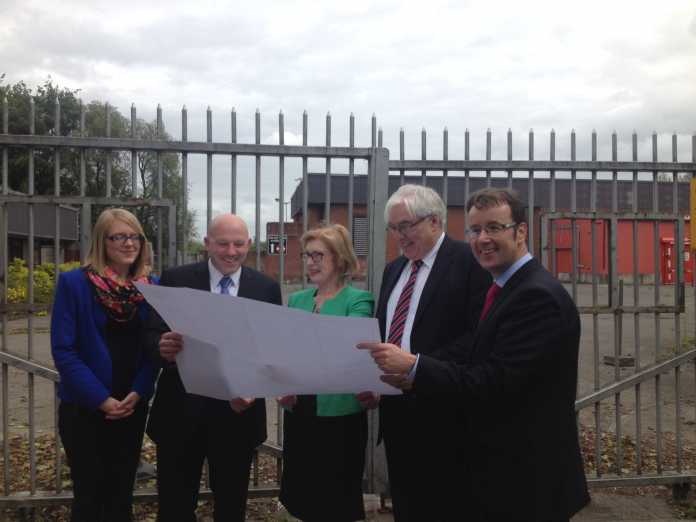 THE Department of Education and Skills has approved the purchase of a permanent site for Gaelcholáiste Luimnigh; when complete it will be the largest co-educational all-Irish secondary school in the country, catering for 750 pupils.
The school will be located on the grounds of the former Dawn Dairies/Kerry Group processing plant on Old Clare Street.
Today's announcement was been warmly welcomed by parents, pupils, staff and the Limerick and Clare Education and Training Board (LCETB), patrons of Gaelcholáiste Luimnigh.
The school, currently located on Sir Harry's Mall, has occupied rented accommodation since it opened in 2006 with 31 pupils.
Gaelcholáiste Luimnigh now caters for 585 pupils, and it is expected that demand will continue to rise in the forthcoming years due to the rapid growth of Gaelscoileanna in the Limerick city region.
Minister for Education and Skills, Jan O'Sullivan said: "I have carefully monitored the growth of Gaelcholáiste Luimnigh since it opened, and the success of this great school means it has outgrown its current rented building. The school has a very bright future and its needs a building that can accommodate its long-term development."
She added that the project would "enhance the city of Limerick", provide employment, and facilitate parents who wished for their children to receive an all-Irish post-primary education.
George O Callaghan, chief executive of the LCETB said: "We are very pleased to hear of this exciting and positive development for Gaelcholáiste Luimnigh. The school has grown significantly since it opened in 2006 and it now requires its own custom-designed and developed campus to meet the needs of a big school.
"We will be working closely with the building unit of the Department of Education and Skills and the Limerick City and County Council to progress the development of the new campus to turn-key stage as speedily as possible.The necessary contracts are being drawn up and will be put before Limerick and Clare Education Board for approval. It is particularly exciting that a city centre location will be developed to facilitate such an important function as that of the education of young people."
Donncha O'Treasaigh, principal of Gaelcholáiste Luimnigh commented: "We are delighted with today's announcement for the pupils, staff and parents who are involved in Gaelcholáiste Luimnigh. We are most grateful to all those who have contributed, tirelessly, to ensuring that Gaelcholáiste Luimnigh is allowed to flourish close to its current location, where the school first started in 2006."