by Bernie English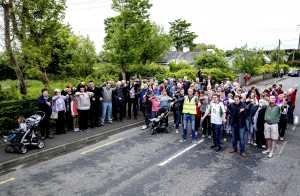 AFTER members of Limerick City and County council voted to sink the controversial Northern Distributor Road, residents in Clare affected by the scheme are writing to their local authority to ask: "what now?"
Before the Limerick vote, Clare councillors had voted in favour of setting aside a corridor of land as the route for the road's passage through east Clare.
In a statement the North Distributor Concerned Residents said they were pleased that Limerick councillors appear to have listened to the arguments about the flood risk, the negative impact on footfall to the city and the financial impact on the Limerick tunnel.
"We are also delighted with the debate which took place in the chamber in Limerick City and County Council which took quite a considerable period of time, in marked contrast to the scenes in Clare County Council last week where a vote was pushed through after only four members were allowed to speak".
"We are asking Clare County Council to clarify the position as to what happens next. When a route like this is adopted into the County development plan for any county, the land and buildings along that route are frozen and no planning permission for improvements to homes, farms or businesses will be granted.
"We cannot allow a situation to develop where homes and farms and businesses are left in limbo, frozen under a line for a road that cannot now proceed", the statement added.
Last week, Limerick councillors rejected plans to bring the road through Lisnagry and Annacotty by 26 votes to 3.
The proposed route would have started at the Cappamore junction, cut through the Mountshannon Road, with a bridge crossing the River Shannon. It would then have proceeded at a gap between houses behind the Plassey Park Road before heading towards Parteen and Ardnacrusha.
One of the greatest fears raised by residents was that the chronic flooding of some years back would become a regular occurrence if the road went ahead.
The proposal was to alter the county development plan to allow for the road. While there is no funding available at present for the scheme, councillors were told that the proposal would have no chance of getting past Bord Pleanala if the land for it is not suitably zoned.
Meanwhile, the Limerick Chamber of Commerce has expressed disappointment that progress on the road was stalled and called on those involved to review all options to ensure it is delivered as soon as possible.
Chamber chief executive Dr. James Ring said "adequate infrastructure is vital in enabling business to be conducted. The need for this road is clearly identified in a number of policy recommendations".