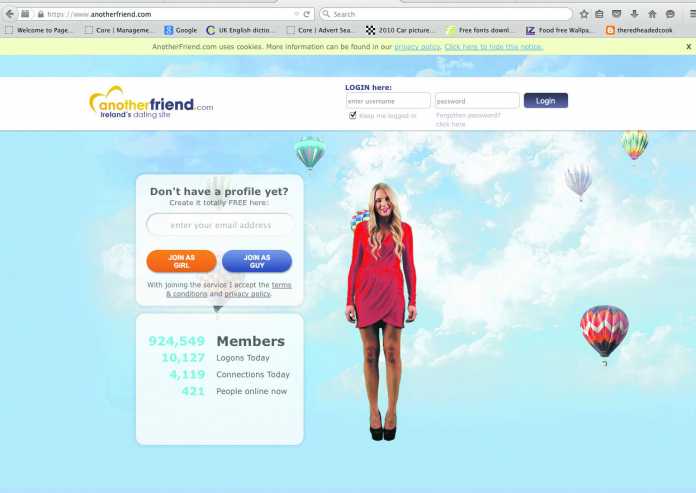 by Alan Jacques
Sign up for the weekly Limerick Post newsletter
A LIMERICK woman looking for romance online has described a city-based dating website as a "total scam".
Caroline (35), from Annacotty, last month joined Anotherfriend.com which is Ireland's largest dating and personals website. Located at 47 O'Connell Street in the city, the site owned and operated by WebDev Ltd attracts around 4,000 new singles every month and boasts over 450,000 members. In Limerick alone, it has 23,890 members.
WebDev Ltd also runs dating sites Maybefriends.com and SingleParents.ie.
Single about a year, Caroline told the Limerick Post that she had heard horror stories about some dating sites so decided to give Anotherfriend.com a go as it was locally run.
"It was something I never thought I'd try, but that's the way dating has gone now. You can't meet anyone on a night out in the pub anymore. I was warned that some of the sites are full of married men looking for affairs, so I decided I'd give this one a try because its in Limerick," Caroline explained.
"I signed up as a standard member where you get to fiddle around online and chat to people, which was fine. It cost me €25 to join up as a premium member for a month but two days into that, I had my membership suspended. I should have read the reviews first because it turns out that lots of other people have had the exact same experience," she claimed.
In an email from a customer support agent at the dating site, Caroline was informed that her account was suspended as one of her messages was treated an attempt to arrange a meeting with another member.
"As you might know, standard members cannot exchange contact details nor make any arrangements to meet. I am really sorry for any inconveniences caused by this issue. Your account is active again and ready to use."
However, Caroline, a premium member, claims her account took four days to be reactivated and says she has heard of other people also having their accounts blocked once they have upgraded to premium membership. She makes out that once members organise to make a date on the website, they are automatically blocked from using the site.
"They are ripping people off. It's a national disgrace. My account was suspended after two days and I don't know why. I had not shared any personal details. I had not used vulgar language and they just blocked me for no reason after they got money out of me.
"I was told in an email that I had given out contact details. This is a blatant lie. I never gave any member my mobile number or anything personal and this site knows that. I don't know these men, I was only chatting to them to get and know them. That's what you are supposed to do.
"The whole point is to meet someone and this site is just making a joke of the purpose of joining up", she said.
There was no comment from the Limerick-based dating site at the time of going to press, despite several attempts to establish contact over the past two weeks.