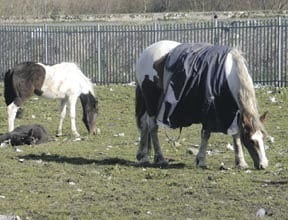 LOCAL representatives have accused Limerick City and County Council of failing to tackle the problem of horses roaming free in urban areas.
During a discussion on new control of horses draft bye-laws for Limerick, several council members said they believed the situation in the city's estates is getting worse.
"I don't see any improvement. In fact there's been a dis-improvement. The whole system just hasn't worked. Are we just rubber stamping by putting these bye-laws through? There must be a serious effort made to deal with this and to engage with those who are keeping horses." commented Cllr Joe Leddin (Lab).
Fine Gael councillor Daniel Butler suggested targeting the sellers of horses, noting "when the council takes a horse, they can go and buy another for €20 or €30".
City North councillor Maurice Quinlivan (SF) said: "I don't see any progress being made whatsoever. Driving through the estates, I've seen more horses than I've ever seen in my lifetime. There are people living in fear of some of these horse owners.
"We can't have a situation where people in St Mary's Park can't walk on the footpaths because they're covered in horse droppings. This is an ongoing problem in the city and we haven't solved it. The number of horses is out of control."
Cllr Kieran O'Hanlon (FF) said the problem should be dealt with on a national level and added: "I believe the Department of Agriculture has washed its hands of this issue. We have officials who are doing their best but they don't have a magic wand."
He added that "individuals who are selling horses to people who can't afford to keep them should be prosecuted".
AAA councillor Cian Prendiville remarked: "There are two sides to this – supply and demand. There are many people with a genuine interest in caring for horses and riding horses, and we need to find an outlet for that.
In terms of supply, Cllr Prendiville suggested tackling "the oversupply and the breeding of horses" and that the council should geld seized horses before returning them to their owners.
Cllr John Gilligan (Ind) warned: "There is a serious criminal involvement in the whole question of horses, and until we face up to that we are losing."
Director of services Kieran Lehane told the meeting that plans are in place to reactivate the city's horse working group and assured councillors that the local authority "is serious in its intent to deal with this".
Regarding the supply of horses in the city, he commented: "It is a puzzle to me how we seem to have a constant supply of horses coming in".
Cllr Bill O'Donnell (FG) suggested amending the bye-laws to allow the council to microchip horses and charge the owner for the cost if a horse is seized that is not microchipped.
His party colleague Cllr Michael Sheahan called on the council to ban people from riding or driving horses on public roads in the city from 7.30am to 9.30am and from 4.30pm to 7.30pm.