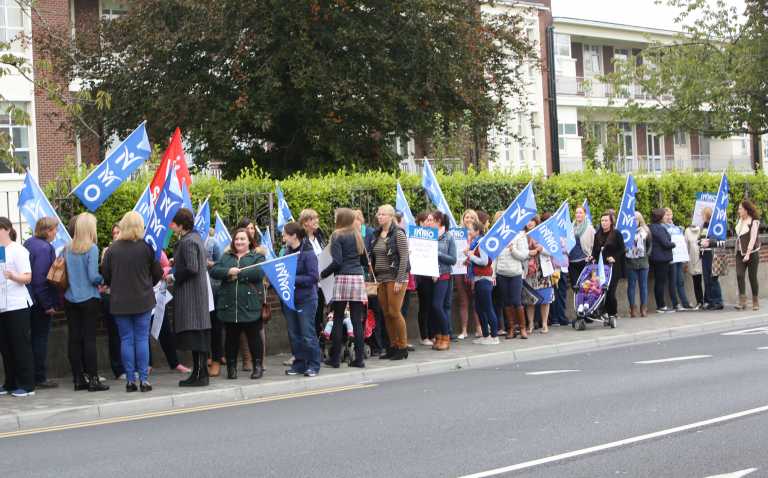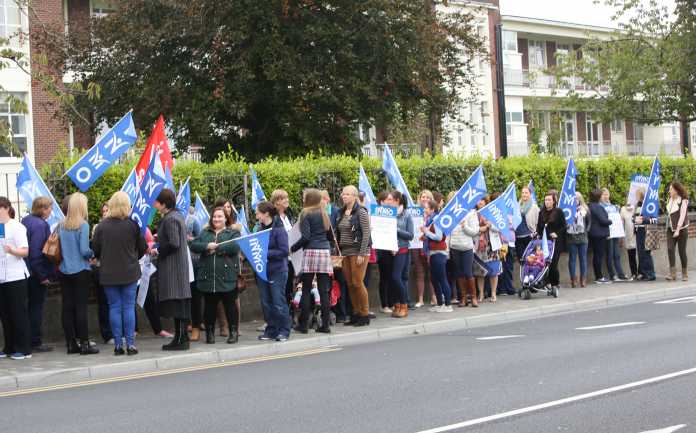 MIDWIVES taking part in last Friday's lunchtime protest at the University Maternity Hospital in Limerick say they have serious concerns about the safety of mothers and newborn babies at the hospital due to staffing levels.
One midwife, who asked not to be named, told the Limerick Post: "We don't have enough staff to provide complete safe care. We try our best but under the working conditions at the moment we're too stretched.
"There is a higher rate of women who are sicker, there are higher c-section rates, the women have higher BMIs. The girls in neonatal, they have higher rates for their admissions as well. There are more complications these days so there's more work entailed. We just want to be able to provide safe care and we're not able to do that in the circumstances.
"Maybe we have 5,000 births so that's the ratio that's needed but they're not taking into account the more complex cases. We need more staff to deal with these complex cases."
According to the midwife, many experience midwives have left or retired.
She said: "The skill mix is not great; there's lots of more experienced midwives who have left, so it's the junior staff who are taking over and are expected to do more than maybe they should be doing."
The midwife also revealed that those working on the postnatal wards at nighttime could find themselves looking after 18 mothers and 18 newborns.
"On the wards at night, you could have 27 mothers and 27 babies and there could be three staff on, so that's nine mothers each. If you're on with a student you have to co-sign their work so ultimately you're responsible for 18 mothers and 18 babies.
"We're looking for more staff really, that's what we need to fix the problems."
SIPTU industrial organiser Ger Kennedy said the midwives' workloads are increasing due to the growing number of women presenting with complications during pregnancy and delivery.
"We don't believe that there are sufficient midwives in place to cope with the demand on the service, which is increasing.
"There's been a 40 per cent increase in the number of c-section deliveries in the last 12 months, and in that context it does take a fair degree of additional work and we simply don't have the resources within the hospital to cope with that level of work safely.
"It's been an ongoing situation; for the last number of months we've been trying to engage with the HSE to remedy the situation, but we haven't made much progress."
The HSE is currently in the process of recruiting an additional 25 midwives, but the INMO (Irish Nurses and Midwives Union) say this will not address the staffing crisis.
Last Tuesday, UL Hospitals referred the dispute to the Labour Relations Commission.
A ballot for a work-to-rule will be held in the coming weeks if matters are not resolved.
A HSE spokesperson said: "Staffing deficits at UMHL are recognised by all parties concerned but UL Hospitals Group rejects any assertion or suggestion that our maternity services are unsafe for mothers and their babies as a result.
"In common with other areas of the health service, UMHL has been dealing with legacy issues around the financial crisis, recruitment embargo and the loss of experienced staff through voluntary exit schemes. The hospital has also seen an increase in births and in the complexity of cases."
The spokesperson added that 55 midwives have been employed on permanent contracts this year, and 13 midwifery graduates have recently been offered contracts.
The HSE has also approved ten new neonatal nursing posts in addition to the advertisements for 25 general midwifery positions.