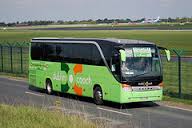 by Bernie English bernie@limerickpost.ie
COMMUTERS and students studying and working in Limerick city centre have launched a social media campaign, demanding that restrictions on stopping in the city at rush hour be lifted from an independent coach service.
Under the current terms of their licence, Dublin Coach – which operates the service known as the Green Bus between Limerick and Ennis – are not allowed to pick up or drop passengers at Arthur's Quay during peak travel hours between 7am and 10am and 4.30pm and 7.30pm.
Instead, passengers have to travel on to the University of Limerick as their nearest stop for Limerick city.
The service operates 17 times a day and at any other time has a stop at Arthur's Quay.
A spokeswoman for the company said that passengers are the ones losing out.
"There are between 50 and 80 passengers using each of the services from Ennis and Limerick so that's a lot of people. The problem is, there is no way people who have to be in Limerick for work or to go to the two city colleges can get in on time with this restriction".
She said that there has been a huge Facebook and Twitter campaign around the issue.
"We're asking customers to contact the National Transport Authority (NTA), which issues our licence, to let them know that they want this stop. It operates at every other time but we can't just decide to stop at Arthur's Quay because then we could lose our licence altogether".
A spokeswoman for the NTA told the Limerick Post: "In reaching a decision on an application, we take a number of criteria into consideration, including the demand or potential demand for the service having regard to the needs of consumers, and any existing public passenger services on or in the vicinity of the route.
"We then balance the need to ensure that transport services it has contracted for, and for which public subsidies are paid, are allowed to operate in an efficient and effective manner.
The spokesperson said that the restriction regarding Arthur's Quay was put in place at the time the licence to extend the service to Ennis was granted.
"It was to protect the contracted rail services. We considered that a potential transfer of passengers from rail to the extended service could have a severe impact on rail services, which could lead to a reduction of rail services in the area or a need for increased subsidy for rail.
She added that commercial operators are able to apply to the Authority for new or amended licences at any time.