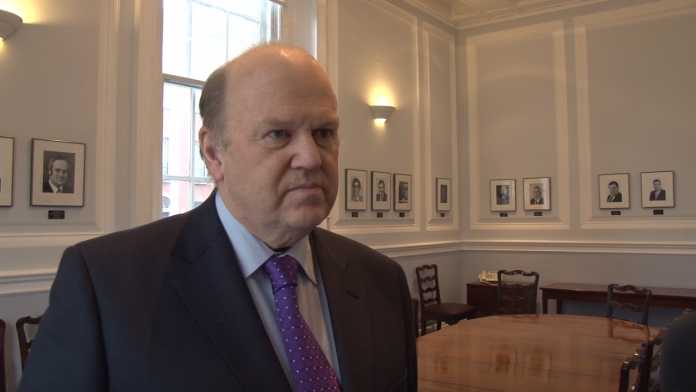 BUDGET 2016 provoked predictable responses from Limerick's public representatives, with government TDs patting themselves on the back for "giving back to the public" and those in opposition criticising it for not going far enough.
Speaking in the Dáil on Tuesday, Finance Minister Michael Noonan said: "Every measure in this Budget is designed to grow the economy, create additional jobs and increase living standards. The Budget I have announced today will help to secure the recovery. It will provide stability to families across the country.
"It will reward work, enterprise and innovation. It will provide the resources for investment in essential public services."
The Minister added that all workers would "gain a full extra week's wages" thanks to measures such as the reduction in USC rates.
His party colleague, County Limerick TD Dan Neville said Budget 2016 "will make a significant difference for those in rural Ireland" due to agri-taxation changes, the recruitment of 600 additional gardaí and the increase in the Capital Acquisitions Tax (CAT) band.
Limerick City Fine Gael TD Kieran O'Donnell said the reduction in USC rates would "ensure recovery is felt in Limerick and across Ireland".
Fine Gael TD for Limerick City, Kieran O'Donnell, has said that the significant reduction in the Universal Social Charge (USC) contained in the Budget will make life easier for families and individuals across Ireland.
"Tax cuts are good for our people and our economy. They create jobs, they make work pay and they attract migrants home. And, as with the tax reductions in last year's Budget, those who will benefit most from the reduction in the USC will be low and middle income workers," he added.
However, Fianna Fáil TD Willie O'Dea said the Budget "will do nothing to relieve pressure on individuals and families in Limerick trying to cope with out-of-control rents".
Criticising the lack of rent certainty measures and the government's failure to increase rent supplement caps, Deputy O'Dea added: "Through this budget the Government is perpetuating the mindless situation where families are being forced into emergency hotel accommodation, rather than allowing them a marginal rise in their rent supplement. This is nonsensical and sums up the Government's haphazard response to the housing emergency."
Anti-Austerity Alliance councillor Cian Prendiville said the main benefactors in this year's Budget are "business and the major corporations".
"This budget throws scraps off the table to workers, young people and the poor. The increase in the minimum wage is an insult when major corporations have seen their profits massively increase and rents alongside the cost of living has increased, workers need a living wage," he added.
Budget 2016 main points
– Reductions in USC rates; seven per cent rate reduced to 5.5 per cent, 3.5 and 1.5 per cent rates each reduced by half a per cent
– Tax credit of €550 for self-employed
– Minimum wage up to €9.15 from €8.65
– Funding for 600 more gardaí nationwide
– Free GP scheme extended to under 12s
– Christmas bonus restored to 75 per cent of social welfare recipients' weekly payment
– Child benefit up €5 per month
– Pension up €3 per week
– Price of pack of cigarettes up 50 cent, the only tax increase in the Budget
– Children aged three to five now entitled to free pre-school education until they reach primary school
– More teachers to reduce average pupil-teacher ratio from 28:1 to 27:1 at primary level and 19:1 to 18.7:1 at secondary level