by Alan Jacques
alan@limerickpost.ie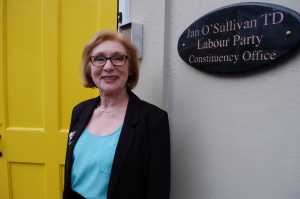 PUTTING more money in the wage packet of working families and investing in public services are the two key goals of the Labour Party's economic plan.
And Education Minister Jan O'Sullivan has promised that the plan will ensure that low and middle-income families benefit most from the growing economy.
"75 per cent of available resources will be invested in vital projects such as smaller classes sizes, affordable childcare and job creation. The other 25 per cent will go to reducing the tax burden on working families. This is a plan that puts our community first," the Limerick Labour Party TD explained.
Labour's economic plan includes: abolishing USC on the first €72,000 of income; reforming PRSI to give additional relief to workers earning between €18,305 and €36,608; increasing the bank levy by €350m, creating 50,000 apprenticeships and traineeships over the next five years; extending free GP care to all citizens; ending the long-term use of prefabs in our schools, and ensuring that parents don't pay more than €2 per hour for childcare
Minister O'Sullivan maintains this is an "ambitious and realistic plan".
"Families across Ireland have worked hard to restore our economy. Labour won't put that progress at risk. Our five-year plan is based on independent growth forecasts of 3.1 per cent between now and 2012. This will ensure we balance the budget and reduce our national debt while investing in our society.
"Our plan is focused on families who have paid a high price for the disaster that Fianna Fáil visited on the country. All across Limerick, families need a break. Reducing childcare costs, lessening the tax burden and investing in our schools and health services will deliver a better quality of life. Our economy is recovering. Labour will ensure that our social recovery goes hand-in-hand with that."