by Alan Jacques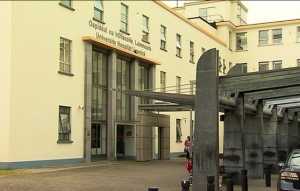 AN injured father waiting to have his foot amputated at the University Hospital Limerick (UHL) spent the night before his operation in a ward with just his coat for cover, it has been alleged.
And, according to the man's son, Ronan Dunne, he was still left without blankets after surgery the following day.
Mr Dunne recently took to the 'Limerick Trolley Tales' Facebook page, initiated by the Anti Austerity Alliance, to express his anger over his father's treatment at UHL.
"I am so outraged! My father went into the Limerick Regional Hospital last Tuesday due to a foot related injury. To make matters worse he was not given any blankets whilst in a bed in ward 1C," Mr Dunne posted.
"He spent his first night sleeping with the bare coat on his back over him. He was later amputated the next day. To this day, he is still in hospital and still has not received a blanket after asking numerous times," he claimed.
Responding to the story, AAA General Election candidate for Limerick City, Cllr Cian Prendiville, called on immediate action to "resolve the crisis in our health service".
"Underfunded, over-crowded, understaffed – this is the reality of the health service in Limerick. The austerity parties are running our health system into the ground. We now hear almost daily of the horror stories pouring out of our hospitals," Cllr Prendiville declared.
"The shocking inability to meet Ronan Dunne's father's request for a blanket is becoming an all too common story as the University Hospital Limerick simply does not have the resources to deal with the number of patients coming in.
"I've also been told of cases where nurses had to give a patient their coat instead of a blanket. Is this what recovery looks like for public patients? If this is stability, I'd hate to see what the Labour Party and Fine Gael would call chaos!"
Cllr Prendiville is now calling for extra funding to be immediately released to University Hospital Limerick to allow it to cope with demand.
"What happened to Ronan's father must not happen again," he said.
In response, a spokeswoman for UL Hospital Group said it could not comment on individual cases for reasons of patient confidentiality.
"All hospital beds on all wards in University Hospital Limerick (UHL) are made up with sheets and blankets to required standards for the comfort of our patients. Any requests for additional blankets by patients are met," she said.