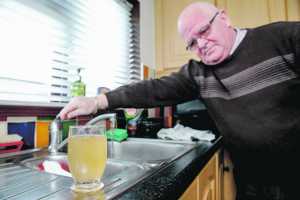 "THE smell off it was putrid, it was like faeces."
This was the description of the gunky water coming from the kitchen tap of Kennedy Park resident Michael Mulcahy this Tuesday afternoon.
According to the 56-year-old, who lives on an invalidity pension at his home on the Galvone Road, this is the second time in less than a week that his tap water has turned this murky colour. He turned on his tap around midday and was overwhelmed by the "rancid" stink and pigmentation of the water.
"This is not a joke. It happened last Thursday as well and about two months before that too. It is happening far too often. Something needs to be done about it.
"You should see the water in my tank in the attic. It is like brown shite. I also took a picture of a glass of water as it was coming out of the tap and it was filled with sediment. The stink off it was unbearable. It is just sickening. I certainly wouldn't drink the water coming out of the taps.
"I let the tap run for about ten minutes and the yellow colour eventually ran out of the water. I had clothes in the washing machine at the time and they were destroyed. The smell was disgusting. I had to put more washing powder in the machine and wash them all over again.
Mr Mulcahy, who is opposed to water charges, said he didn't call Irish Water to register his complaint as he feared this would be misconstrued as him signing up for the utility's services.
"I definitely have no intention of paying water charges. I am totally against them. The water up here is undrinkable and people are sick of the shite that is coming through the taps. It has to be a serious health hazard,"  he suggests.
Anti Austerity Alliance councillor Cian Prendiville is now urging anyone having difficulties with Irish Water, but who do not want to contact them directly, to get in touch with him.
"I have contacted Irish Water and it seems that repairs were being carried out on the network in Kennedy Park that resulted in the water being contaminated. However, if water works leave the water undrinkable, the residents should at least be warned about this. It is not good enough for people to turn on their taps and find undrinkable, contaminated water," he said.
A statement from Irish Water said that they try to resolve all customer issues in a timely and efficient manner.
"However, if we are not made aware of issues it makes investigating them difficult. Customers with any issues in relation to their water supply should contact our contact centre on 1890 278 278.
"We are undertaking a national investment programme to address the acknowledged deficiencies in the country's water infrastructure. €340 million was invested in improving water and wastewater services in 2014 and over €363 million during 2015," the statement concluded.