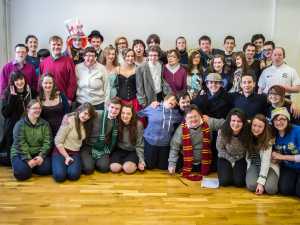 THE Creative Show presents Gulliver's Travels 2016 on Tuesday March 15 and Wednesday 16 at Lime Tree Theatre, 8pm. A major collaborative effort with many stakeholders, this is a comic family show written and directed by Myles Breen with movement pieces devised and choreographed by Angie Smalis.
All will be performed by members of Limerick Youth Theatre, service users from the Daughters of Charity Service (Limerick) featuring the Laurel Hill Coláiste FCJ Choir, dancers from Coláiste Nano Nagle and Patterns Dance Collective, Limerick Youth Dance and musicians from Music Generation Limerick City.
The (annual) Creative show is in its sixth year and began with Donal Sherlocl of Daughters of Charity (Limerick) and Angie, and a corps of 30. Myles Breen was invited on board for his directing, acting and singing skills – and he's a talented playwright as well as pantomime veteran.
Now LYT members, service users, choir, dancers and musicians have been rehearsing together for three months and these 170 participants have been active in all aspects of stage craft, including sound and visuals.
In Jonathan Swift's classic novel Gulliver finds himself transported to a variety of strange lands after being shipwrecked. In this modern adaptation, his descendants also go travelling and have many adventures on the way. With ship wrecks, kidnappings and an X Factor final, the present day Gulliver family find themselves meeting a host of characters.
Familiar faces turning up including Peter Pan, Simon Cowell, Cleopatra, Doctor Who and the Queen of Hearts.  They wonder if they will ever get home or maybe the Wizard of Oz might be able to help them.
Book for the excitement on www.limetreetheatre.ie, March 15 and 16.