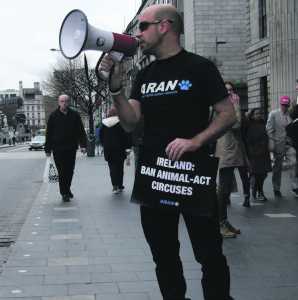 IN 1995, a 14-year-old animal lover from Limerick was stirred into action after seeing brutal images of skinned seals on the front cover of a national newspaper.
21 years later, the organisation that grew out of this outspoken young man's outraged reaction is a national phenomenon.
This month, animal advocacy group ARAN (Animal Rights Action Network) marks over two decades of raising awareness of the plight of animals in Ireland and across the world. With a support base of over 13,000, the group set up by Limerick man John Carmody has gone from strength to strength in the last 21 years.
ARAN also has celebrity backing from the likes of Linda Martin, Adele King, Mary Byrne, Edward, Sharon Shannon and even Hollywood heavyweights such as Anjelica Huston and the late Sam Simon co-creator of The Simpsons.
John is quick to point out that when he started the group, Ireland had a law protecting animals that dated back to 1911. There were no major responsibilities placed on people owning animals, actions for animals were consigned mainly to Dublin and very few people knew what vegetarianism was. In fact, many would have run a mile at the thought of a vegan diet, he claims.
However, through political lobbying, "racy and provocative stunts", hard-hitting investigations, celebrity involvement, education, grassroots activism and media awareness, ARAN have helped change all that.
Under their watchful gaze, the Dog Breeding Establishments Act 2010 and the Animal Health and Welfare Act 2013 have come into legislation.
Also ARAN's 'Adopt Don't Buy' and spay and neuter campaign has saved huge numbers of animals from being killed in Irish pounds and all of Ireland's Department stores are fur-free including Brown Thomas.
"Time really has flown since I first opened my eyes to the issues facing animals here in Ireland and around the world," he tells the Limerick Post.
"I have given my life to helping animals and to reversing age-old ways of thinking about animals in that they are nothing but commodities and that so long as they are fed and watered and not beaten that it somehow justifies their use.
"I was just a young kid at the time, today I am a grown man and although I won't be around animal rights in another 21 years, I am confident that the youth we have inspired over the years will be tomorrow's defenders of all animals, and thanks to ARAN's dedicated and relentless efforts, society will be a kinder and more peaceful place for animals and people," he predicted.
ARAN's next focus is on "ending Ireland's remaining fur farms, revamping Ireland's circus industry by getting the animals out, ending the death toll that still exists in Irish pounds where many dogs are still killed, shutting down puppy farms, ending hare coursing, fox hunting, getting the nation to go vegan, and much more".
by Alan Jacques