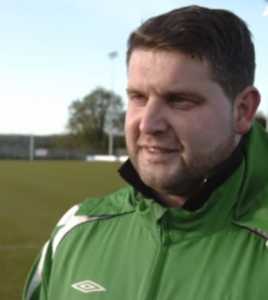 IN THE wake of his team's 1-0 defeat in the FAI Junior Cup final to Sheiff YC, Pike Rovers manager Mike Shiel stated that he was "very proud" of his players' efforts at the Aviva Stadium.
He also conceded that the Dublin side played the better football on the day and were good value for the win, although he sensed that things may have been different if he had a fully fit squad at his disposal.
Speaking half an hour after the game, Shiel said: "To be fair, they were probably the better team. You have to accept sometimes when somebody's better than you, but I'm very proud of my players. We worked really hard. The system worked well. We wanted to send them out wide and get crosses into the box, but I wasn't expecting the quality of that cross [for the goal]. That's Premiership stuff. I'm gutted and disappointed but I'm very proud of my players.
"Maybe Walla [Shane Walsh] probably wasn't as fit as he told me he was and that's something he'll have to look at. I thought when Jason [Mullins] came on in the second half that we started to get a hold of the ball. We pressed higher because Jason had more energy.
"[Steven] McGann was beginning to get into the game as well. They were getting a bit annoyed with him, trying to get him booked and stuff like that. Then all of a sudden his hamstring goes. They had a great chance when [Darren O'Brien] headed over with an open goal but they haven't carved us open down the middle and they're a very good side."
Sheriff were on the front foot for most of the game and it was only in the final few minutes that Pike really threatened, but Shiel felt it would have been dangerously naive to go gung-ho from the beginning of the second half.
"I heard the crowd saying to be more positive and I could have went out and gone for it in the second half, but we would have been turned over 3-0 or 4-0.
"They're a good team. They're a really good side so I wanted to keep it tight until the last 10 minutes and then bring the cavalry up – Pat Mullins, O'Callaghan, Wayne Colbert – and see what we could do.
"It dropped to Sean O'Callaghan and when it drops to your centre-halves, you don't know what's going to happen. It might go in the top corner or it might go in the stand. Unfortunately it went wide for us."
Shiel is determined to put this result behind him and focus on guiding the Hoops to league success, insisting that such an achievement would be a truer barometer of his team's quality.
"From a manager's point of view, I want to win leagues. These are great occasions and all that, but we could go out and get Sheriff or Janesboro early next year and get turfed out. Winning leagues is how you see how good a team really is and I do think we are the best side in Limerick."
Pike captain Wayne Colbert was also in defiant mood immediately after Saturday's final and he affirmed his belief that his youthful team-mates would get further opportunities to claim silverware on a national level.
He said: "I was talking to the lads before the game and telling them how big a game this was. Some of them will probably never experience it again and some lads probably will. I was saying to them that if we stick together as a team, we will be here again for the next two or three years. We're a young side. I'm the oldest player on the team and I guarantee you that we'll be here again, 100% we'll be back here again."
Colbert added that Sheriff probably deserved their victory on the day and was rueful over Pike's inability to make the most of the sparsity of chances that came their way.
"They're a good side and we left it a bit late to go at them. It's hard to take now but we'll take credit from it. We're a young side and they're together for six years. There's only one winner in a final, unfortunately.
"We're struggling the last few weeks with the squad but take no credit away from Sheriff, either. They're a good side. I don't think we even got a shot on goal. If we had taken one of our chances, maybe it could have been a different game."