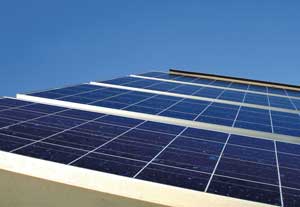 A €30 million commercial power plant, which could create dozens of jobs and provide enough energy to power more than one thousand homes has reached the planning stage.
Plans for the project, along with an environmental impact statement, have been lodged with the local authority concerning the proposed project at Ballymorris, just off the Ennis-Limerick road.
The 12.4 hectare farm will be connected to the national grid and will generate enough electricity to power 1,200 homes over a 25-year period.
Following a number of pre-planning meetings with the local planning authority, Terra Solar will lodge its first planning application to develop a solar farm at its Ballymorris site in Cratloe in the coming weeks.
The company has  has applied for this and five other sites in the county for grid connection to ESB Networks.
Requiring an investment of €5 million each, the six sites in the Shannon area will provide enough electricity to power 6,000 homes.
The company says that jobs will be created in the construction phase of the plan although other than security monitoring, it is unlikely that any full time jobs will be involved in the resulting construction.
The overall investment will also make the Shannon region more attractive for new industry as the overall energy created by the local solar farms would almost be the equivalent of decarbonising Shannon.
"It will create a good platform to attract multinationals such as the likes of Google and Apple, who want to source renewable energy. It should lead to a springboard for other jobs." said Terra Solar director Andre Fernon.