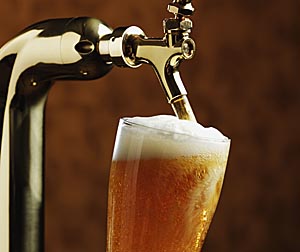 SCIENTIFIC research was discussed over creamy pints in one of Limerick's oldest watering holes last week as scientists and engineers gathered for a meeting of minds.
A free scientific event called 'Pint of Science' saw a wealth of University of Limerick's researchers discuss their latest scientific findings from the comfort of the high stool in JJ Bowles Pub in Thomondgate.
The main aim of this novel pub gathering was to give the public a better understanding of science and how the findings of UL researchers impact everyday life.
Up for discussion over creamy pint were subjects ranging from elite athletics and maths statistics to marine robotics, superplastics for airplanes, solar energy and cancer research.
Organised and sponsored by University of Limerick's Faculty of Science and Engineering, Lero, SSPC and MACSI, 'Pint of Science' sent people packing with much food for thought.
Not only did this unique and novel idea bring future scientific ideas and research to the local pub, it also showcased major research and demonstrated the importance for scientists from all disciplines to be able to communicate to the public.
by Alan Jacques
alan@limerickpost.ie