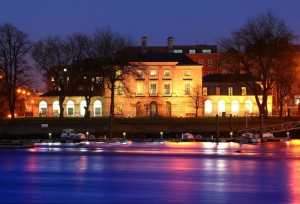 LIMERICK Writers' Centre had an attractive hit with its lunchtime poetry series in The Hunt Museum last year.
To be weekly from Thursday July 7, this joint venture will present two poets between 1pm and 2pm in the Captain's Room to read their works in the four weeks of July, preceded by music performed live by local musicians.
On Thursday July 7, Kathryn Guille and Edward O'Dwyer lead in for Lunch Time Poetry. From Dominic Taylor at LWC, we hear that Guille is an American writer and choreographer living in Limerick city.
She's the 2016 winner of Cúirt International New Writing Award in poetry and her screenplay, 'Enemy of the Freak State', won the David Dortort Prize for Screenwriting. She holds an MFA in Creating Writing from The City College of New York.
Limerick man Ed O'Dywer's work was selected for The Forward Book of Poetry 2015, and has been shortlisted for a Hennessy Award, the Desmond O'Grady Prize and the North West Words Prize. Free admission and a warm welcome to The Hunt Museum.