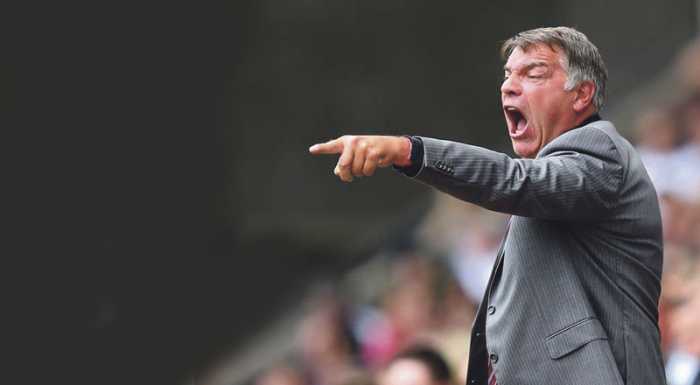 "SAM, my advice is not to proceed with any house deal"
"Why not"
"Because the record book shows very few managers stayed here beyond 18 months, and you could be left putting it back on a depressed market even before you have settled in".
Words of wisdom I had passed on to Sam Allardyce, who is on the cusp of being appointed manager of the England football team, and figurehead of an organisation with an annual turnover of 350 million sterling.
You see, Big Sam, as he is affectionately known, had just arrived by Shannonside in the summer of 1991, having been lured here by Fr Joe Young, who had rescued the ailing club from going out of football.
I was soccer correspondent and property editor of the Limerick Leader at the time and Sam arrived at the paper's O'Connell Street offices on a mission.
He had cast his eyes over a substantial period residence, on several acres, in Pallaskenry, with an asking price of around 250,000 pounds. It had been on the market for some time.
Pallaskenry appealed greatly to him. He had planned to bring his family over from Manchester to set up home there. He had a daughter who was into horse riding, and he was sure his wife would love it, and, on his own admission, would enjoy the peace and tranquillity that was not to be found in Manchester.
Even if he was to find a buyer for his existing home, he would have enough cash left over to meet any unforeseen eventualities.
My reply was: "Sam, hold on. That is a major decision. Stall for a while before rushing into anything".
"Why", he pondered.
"Because Limerick football club has an uncertain future and anyway, very few managers down the years stayed the distance".
My reasoning for Sam not taking up roots was based on the fact that while he had ambitious plans for Limerick, the club did not have the proper infrastructure and was without a solid base.
Their ground at Rathbane was run down, without creature comforts, and Fr Young had made it known that while he felt it was his duty to preserve League of Ireland football, especially in a parish which he served so diligently, he was not in it for the long haul. He felt confident he could bring investors on board, which other chairmen in Limerick's troubled league history had failed to do.
Sam was unsure if he would take my advice. Eventually, he did, and decided to accept an offer from assistant manager, Billy Kinnane, to stay at his home in Henry Street.
Little more than a year on, and having won plaudits for his achievement with Limerick, it was not surprising that he was lured back to England, as assistant manager with Preston North End, before moving on to nearby Blackpool, as the man in charge.
When I last crossed paths with Sam in the press room after Bolton Wanderers had lost 1-0 to Everton in the Premier League, and reminded him of our conversation in 1991, he shrugged his shoulders and laughed, suggesting, "yes, a potential mistake had been averted".
"When you return home, give my love to that priest, Fr Joe. Is he still involved with the football team?"
While Fr Joe had rescued Limerick AFC, it could also be said he responded to a rallying call from Sam Allardyce, who, then aged 36, had just been released from Bury's coaching staff because of a lack of funds.
Fr Joe told the Limerick Post that as lifelong follower of West Bromwich Albion, he had followed the playing career of his intended target, and was alerted that he was out of a job.
Fr Joe and Sam made for a great team.
Said Fr. Joe: "Sam was driven by his belief that nothing was impossible. I always believed in 'The Field of Dreams' at Rathbane, and I asked our new manager to dream with me".
The duo achieved their aim with Limerick winning promotion, and with the towering Sam at centre-back, things were looking rosy.
But if was not so easy off the field.
Fr Joe, a native of Janesboro', had won many admirers for his work with the youth in the Southill area, and his dedication and loyalty to his parishioners had been recognised by some very influential Limerick business people, many of whom came forward to make life a little easier at the football ground.
Fr Joe never denied that it was tough, with the begging bowl out on many occasions. The average attendance was little over 500.
According to Sam, there was also some knocking on doors to meet wages. Fr Joe, he agreed, was somebody very special, and whose heart was in the right place.
There was a surprise for Fr Joe last year when Allardyce made contact to tell him that he had made him honorary chaplain of West Ham United, prior to his departure to manage Sunderland.
The question now is, will Big Sam offer him such another honorary position if he lands the England job.
Meanwhile, the Limerick curate has given his 'hero' an unqualified blessing in his quest to land his dream role.
by John O'Shaughnessy