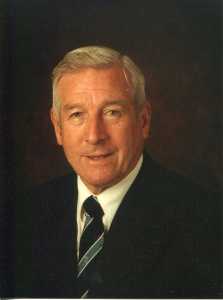 AGED 86, Mr P.E.D. 'Bobby' Kennedy passed away at Milford Hospice this Tuesday July 26 of 2016 with family present. A high achieving business man, hotelier and banker throughout decades, he was founding father to a multiple of successful companies known throughout the Mid West and a loving family man.
Sign up for the weekly Limerick Post newsletter
Everybody living in Limerick was familiar with and was likely to be a customer to, if not an employee of Elm Motors, 1962's First Southern Bank which became the Irish Credit Bank; The Royal George Hotel and The Glentworth Hotel; and William Street's flagship store, JP Newsom & Co Ltd.
His father Joseph was a builder/architect and it was at his suggestion that Bobby Kennedy set up First Southern Bank as a small private merchant bank. Billy Slattery was another stakeholder and managed First Southern right up to 1979 when it was sold to Woodchester Bank.
"Bobby Kennedy was very upfront in his dealings," recalls Mr Slattery. "He was a straight talker, a straight dealer, a good business man".
The Royal George Hotel was for decades the city's finest with a spectacular ballroom, later developed into one of the first night clubs of the Mid West, Fernandos. This hotel was ultimately was sold through Rooney Auctioneers' Pat Kearney, a man who remembers Mr Kennedy as a "business man who knew his facts, his figures, told it straight. He was a pleasure to meet and converse with. He was recognised as a brilliant businessman who was very astute, highly intelligent and very honourable".
Motor racing was a passion of his and as a pioneering Irish man, Mr Kennedy even drove the 1956 Monte Carlo rally with the late Hector Miles Newenham and Michael Keane. He attended every match by Old Crescent and followed Munster and Ireland with dedication.
A source close to the family told Limerick Post of his keen pride in his children and grandchildren, in everything that was new about the world: "He was interested in people and things and over the years had good managers who stayed with him a long time. He was a supreme delegator".
A loss to Limerick's landscape, Mr Bobby Kennedy is survived by his wife of 62 years Ailish, daughters Isobel, the High Court judge, and Victoria, sons Patrick, manager at St. Mary's A.I.D., Alan and Robert, partner with Holmes O'Malley Sexton, sons in law, daughters in law and 15 grandchildren.
Cremation in Mount Jerome on Friday July 29 at 1.30pm.