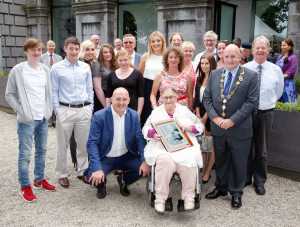 THE Hunt Museum was site for the launch of an interesting portal that honours the extraordinary achievement of a Limerick man, the late Pat Lawless. He sailed the Atlantic solo several times over and went on to circumnavigate the globe alone.
Keith Wood was the sporting lion who officiated at the Lawless family's public delivery of www.patlawlesssolocircumnavigator.com on Friday 22. The website presents some 800 pages of captain's log/ memoir, video clips that Pat made at seas, photographs and media interviews, couched within a satisfying 26 chapters.
This heroic sea master had actually written a 350 page book on his adventures but alas, that manuscript thus far cannot be found.
"He first sailed the Atlantic alone from Limerick to Newport, Rhode Island in 1986 when aged 60. The following year he sailed from Newport back, again solo in his boat 'Iniscealtra' which is called after Holy Island in Lough Derg,"  his son Dan Lawless tells Limerick Post. "Subsequently he wanted to sail around the world but in 1989, had to be rescued by a freighter close enough to Capetown, South Africa".
More travails, a new sponsor in the late Tony O'Mara of O'Mara Motors, and others, saw him make two more attempts, the latter successful finally in mid 1990s. The late and great John Hunt of The Hunt Collection was then sponsor. In 1996, after three years and three days in the 'Loon', Pat sailed back to Limerick victorious and was met by wild civic reception as his city embraced his return and achievement.
Did he ever fear the sea? "Dad was very much a 'move on, boy, don't dwell over it, move on, boy. Move forward', sort of man. When his boat was destroyed, off a shipping lane off Hobart and he had to survive on half a cup of water daily, half a cup of food for 40 days, I imagine that there had to be certain elements of fear in that.
"He had a phenomenal respect for the sea but fear of it? I know he did not. He loved being on the water".
Pat Lawless, buried in Dunquin overlooking his beloved ocean, is survived by widow Nancy, their six children, 13 grandchildren, and three great grandchildren.