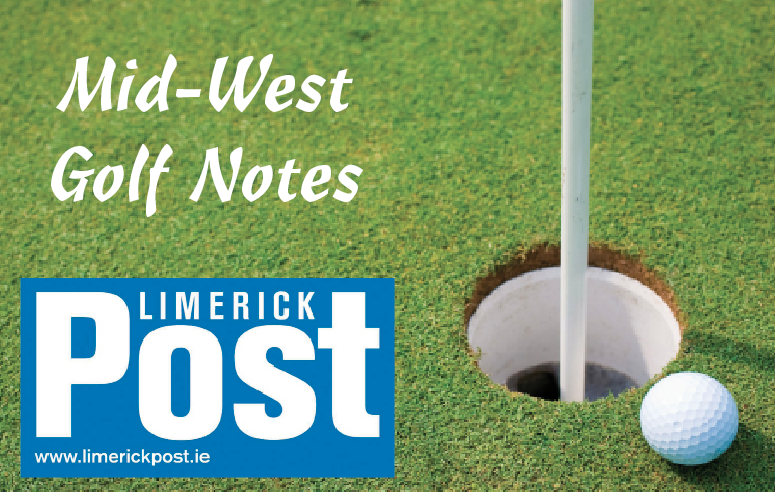 Adare Manor Golf Club
LAST weekend saw the playing of Captain's (Paudie Mann's) prize. With the course in excellent condition and over 240 playing, the scoring was very good. 1st Gerard Ryan 46pts, 2nd Mattie Hayes 45(b9), 3rd K Ryan 45. Gross B Murray 36. Open Singles July 19, 1st David Connolly 44pts, 2nd Greg McNamara 41, 3rd P Kelly 40, Gross A Purcell 36. Desmond cup July 17. Winner Brendan Doran 64 nett. Fixtures August week end Open team x 3, every Tuesday Open Singles.
Ballykisteen Golf Club
LADIES Results: Tuesday July 12:  Winner Neasa Fahy O'Donnell 34 Pts.  Runner Up Catherine Murphy 32 Pts.  Third Catherine English 31 Pts. Senior Ladies 3 ball scramble July 14: Winners Meta Kelly, Hazel Thompson and Una O'Hora. Senior Ladies Singles 9-Hole July 21:  Winner Esther Fearnley 19 Pts.  Runner Up Vivienne Dee 15 Pts.  Third Claire Riordan 13 Pts. July Monthly Medal:  Winner Marie Gibson 70 Net.  Runner Up Catherine Murphy 74 Net.  Third Margo O'Doherty 75 Net. Men's Captain's Prize to ladies:  Winner Catherine Murphy 37 Pts.  Runner Up Marie Gibson 36 Pts.  Third Neasa Fahy O'Donnell 34 Pts. Well done to Sheila Hammersley on winning the Lady President's Prize in Tipperary GC with a score of 38 pts. Huge congratulations to both the Challenge Cup and Intermediate teams, both of whom were victorious in the Munster Semi Final of the ILGU AGI Championships at Bandon Golf Club.  They now go forward to play the Munster Final in Dungarvan on Saturday August 27.
Ballyneety Golf Club
MEN'S Club: Junior Scratch Cup 4-11, Sponsored by Cats Cradle, 1st: Christian O'Sullivan 75, 2nd: Matthew Evans 77, 3rd: Patrick Hogan 77, Best Nett: Bart O'Shaughnessy (Slievenamon) 70, 4th: Gerard Grant 78. Intermediate Scratch Cup 12-18, Sponsored by Thornton Solicitors, 1st: Patrick Fogarty 78, 2nd: Stewart Fitzgerald 80, 3rd: Alan Morgan 80, Best Nett: David Potter 67, 4th: Killian Liston 80. Fixtures: Saturday July 30/Sunday 31, Club Singles sponsored by Reliance Bearing. Ladies Club: 18 Hole Stableford sponsored by LP Asun Smyth, 1st: LC Diane Hannagen 42 pts, 2nd: Bernadette Carr 34 pts B9, 3rd: Eithne Hehir 34 pts. Open Team of Three: 1st: Ruairi Walsh, Matthew O'Gara, Tom O'Gara. Seniors, Rochestown Cup, 1st: John Birmingham 44 pts, 2nd: Pat Prior 42 pts, 3rd: John  Keogh 42 pts, 4th: Michael John Cosgrave 39 pts.
Castletroy Golf Club
THE Junior Team travelled to Bandon on Saturday July 23 and were successful against East Cork with a nail biting finish down the nineteenth. They are now  in the Munster  finals in Dungarvan on August 27.  Tuesday July 19, Eileen Murphy Foursomes: 1st: Shirley Real and Sarah Vaughan   38 points, 2nd: Deirdre Kiernan  and Collette Kenny 33 points. Sunday  July 24: 18 Hole Singles Stableford, 1st Marion Hurley 28 points.  Men's  Results: June Medal of Sunday July 24, Sponsored by Gleeson Spar Shops: 1st Eimhin Wallace 67, 2nd Liam McDonnell 70  B9, 3rd Michael Murphy 70, Gross Dean McMahon 72, 4th Pat Byrne 71, 5th Owen Leonard 72.
Open Singles July 20:  1st Ger Corrigan 41pts B9, 2nd Keith Bermingham 41pts, Gross Jonathan Goodall  Ring of Kerry GC 36pts, 3rd David Franklin 38pts. B9, 4th Michael O'Hea 38pts.  Ladies Results: Eileen Murphy Foursomes Tuesday July 19: 1st Shirley Real and Sarah Vaughan 38pts, 2nd Deirdre Kiernan and Colette Kenny 33pts.
18 Hole Singles Stableford Sunday July 24: 1st Marion Hurley 28pts. Junior Results: 18 Hole Singles Stableford Monday 18th July, 1st  Tom Collins 43pts, 2nd Joe Hoare 40pts,
Dromoland Golf Club
MR Con Ryan President's Prize: 1st Hugh O'Neill, 2nd Gerry Barrett Gross:  Nicky Duggan. Junior Adam Mungovan, Past Presidents' Martin O'Mahoney. Mr Con Ryan President's Prize to the Ladies, 1st Mary Arthur 71, 2nd Hannah O'Brien 60, Gross Mairead Toomey 87. Ladies July Medal, 1st Siobhan Dyar 72nett,
East Clare Golf Club
LADIES Captain's prize (Ina Reddan): Winner Celica Moloney 39pts, 2nd Chris Fitzgerald       38pts, 3rd Bernie Bohan 34pts, 4th Mary Beatty 34pts, 5th Evelyn Skehan 34pts, 6th  Bridget Minogue 33pts, 7th  Bess Fennessy 32pts, 8th Frances Gaffney 32pts. Gross Siobhan Shanahan, Past Captains- Mary Brennan  34pts, Nearest the Pin- Mary Hogan, Longest drive- Chris Fitzgerald. Guests- Yvonne Reddan, Tony Cosgrove. Front 9- Breda O'Loughlin 20pts. Back 9- Connie Mckenna 20pts. Lady Captain's prize to men: Anthony Sweeney. Men's Sunday:  Whites Mike Whelan 38 pts, 2nd Ben Rittweger 37 pts Yellows John Stack 40pts, 2nd Eoin Mcgill 39 pts.
Limerick Golf Club
LADIES: PGA Tankard sponsored by Lee Harrington, dates July 16 and 19: 1st Ailish Dilger 41pts, 2nd Geraldine O'Carroll, 36pts (back 6), Best Gross- Grainne D'Alton 24pts, 3rd Ann O'Leary 36 pts, 4th Eithne Murphy 36 pts.