Above: Keith Wood and Shane Byrne in action during the 1994 AIL final in Dooradoyle (Photo credit: Sportsfile)
LIMERICK is a city that is famous worldwide for its proud rugby tradition. Intense rivalries on the pitch have led to great stories and friendships off it. Over the next seven weeks, Daragh Frawley will give an insight into Limerick's seven senior All Ireland League clubs. This week looks at three-time AIL winners, Garryowen.
"IN 1990 against Cork Con there were 11,000 spectators here in Dooradoyle, and a Guinness Jazz band played after what was essentially the inaugural All Ireland League final".
That is a quote that stuck out in a conversation prior to the interview with several stalwarts of Garryowen RFC as we were setting up in the committee room for a chat about all things rugby.
Back then, rugby in Limerick was a way of life for many and Garryowen were beginning to establish themselves at the top table of Irish Club Rugby.
Identity
For former player and past club president Eoghan Prendergast, the 'boys in blue' have been, and continue to be an integral part of his life.
"Three of my ancestors founded the club so I grew up with it.  My late father called Garryowen an institution rather than a club, and I think that's a good way of putting it".
Looking around the room with wall-to-wall photos of teams, trophies and individuals who have played with the club, both Prendergast and incoming club President Seamus Downes remark that Garryowen's contribution to Munster and Ireland over the years is something that they are very proud of.
However, what they class above all else in terms of what matters most is the club's identity.
"Our approach to rugby on and off the field is very important. For decades we instilled a willingness to not leave anything in the dressing room and we do our utmost to play good rugby.
"In more recent times (mid 2000's) we brought in a developmental academy, which not only involved kicking and catching a ball but also incorporated life skills and bettering an individual's career.
"The wonderful facilities here are a testament to everyone in the club past and present and the standards set have come from within.
We have huge underage numbers and have a great belief that the way we do things helps bring on younger people which in turns helps further the game in the country," he said.
A landmark year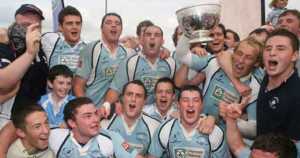 Garryowen celebrate winning the All Ireland Cup in 2012 ((Photo credit: Sportsfile)
In 2007, Garryowen won everything there was to win. The AIL, The Munster Senior cup, The Munster Junior cup, The All-Ireland cup as well as the Senior seconds league title and two under 20 provincial titles.
As recognition for the clubs achievements they went on to represent Ireland at the club World cup the same year.
Almost a decade on from what they call the Grand slam, there hasn't been an AIL title since.
Barring a Munster senior cup in 2012 coupled with the AIB cup the same year, the success which the club had become accustomed to in the mid 90's through the 2000's had began to slip.
Sparking great debate, everyone around the table gave their reasons as to why they thought this had happened, with the recession being amongst the most obvious reasons.
"Look at the teams in Dublin, many ex-Garryowen players are currently on team sheets across division 1 and 2. It's bad for us but it's a good reflection from a rugby point of view", said Downes.
For former player, team manager and current Chairman of Rugby David Hayes, the fallout of players from when they finish school has had a big impact on not only Garryowen, but also other clubs in Limerick.
"The avenues are there where the standout players go to Munster but for the lesser fellas so to speak, who used to come here or go to other clubs in Limerick – they aren't doing it anymore.
"The schools game has gone mad and has actually run away with itself if you ask me.
"You have schools players who play in the senior schools team, who have been pushed incredibly hard in school and when they leave they've fallen out of love with the game."
Hayes believes that is a big failing of the game, and went on to state that there is a 70 per cent fallout of schools players upon finishing second level education.
You can't beat experience
Switching to matters concerning the present day state of the club game and recalling his time as a player in the famed front row union, Prendergast pinpointed gaining experience from the club game as a key factor, which is being overlooked by the provinces.
"It's not the lack of players. You don't learn from a scrummaging machine, you learn from being on the pitch.
"What's happening now is that instead of having guys playing in the AIL, the pro teams are instead trying to physically blow these guys up from when they leave school. I was a prop and so was David. The guile and experience we gained from the AIL is what made us and many others the players we were. The AIL is still here but guys don't get that anymore, the players in this day and age are almost manufactured.
"When I was club president, five Munster contracted players (David Wallace, Conor Murray, Mike Sherry, Ronan O'Mahony and Damien Varley) were at a club dinner at an AIL game and all of them said they'd prefer to play for their club, rather than be in the gym on a Saturday."
"Look at Munster 'A' who might play on a Tuesday in East Devon or in Exeter. Don't get me wrong you want to play for Munster, Leinster or Connacht, but the provincial 'A' games, which they are investing in, against the clubs who are crying out for players at no cost to the provinces, and at a benefit to all those involved? It's a no-brainer," said Downes.
Honorary Club secretary Geraldine Morrissey is of a similar opinion and believes that the successes of Munster came from the AIL through Shannon, Young Munster and Garryowen, and stated the Munster's recent downturn is without doubt linked to the state of the AIL.
Finding a solution
According to Prendergast there are an enormous number of people around the country who have a very good knowledge of the game who aren't consulted.
"The solutions of the ills within the professional game don't always come from within the professional coaching structure. We aren't trying to take over or sound negative by any means but the Munster 'A' fixtures are meaningless.
"There needs to be a much better connectivity between the academy and the clubs. Game time is paramount above all else in the development of a player".
Going back to the time of Andy Leslie and the approach to rugby in New Zealand, Prendergast and Hayes say that Garryowen have looked at that over the years to learn from and instill into their game.
"There is an awful lack of humility in the Irish game. I don't know everything, but the obsession with winning cups in schools has made young guys deluded to the point where they discard the AIL. They don't see rugby in the context that we saw it.
"I remember going up to Cratloe woods getting the s**t ran out of us as a 17-year old with guys of all shapes and sizes and that stood to us. There is a lack of connection at present.
"Young guys need something to wear on their chest – that's what won Heineken cups. Clubs up and down the country are struggling to field 20's teams, seconds teams and thirds teams. Fellas need to learn their trade and the AIL is the perfect platform to do that.
"Ambition is one thing but the notion of going from school straight to inter provincial rugby in the majority of cases is absolutely ludicrous".
Pointing out that this is not an attack on Munster or the professional game, both Prendergast and Hayes acknowledged that the Munster branch are putting together a sub committee looking at schools and players, which will hopefully improve the club situation.
"We are amateurs at the end of the day, but whether its integrating AIL teams into the B&I cup or pulling the 'A' teams out, there needs to be a solution."
The good ol' days.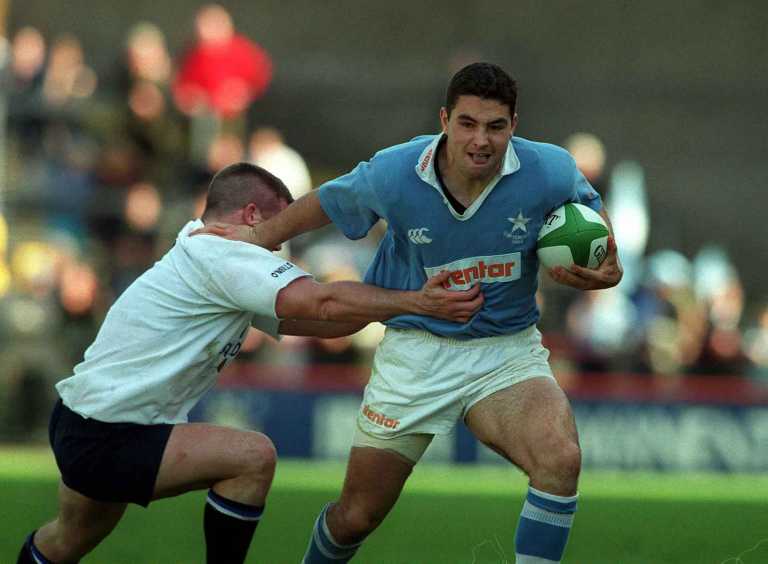 Jeremy Staunton, Garryowen, is tackled by Cork Con's John O'Driscoll during the AIB League Rugby Final in 1999, (Photo Credit: Sportsfile)
There have been many memorable days in the 132-year history of Garryowen RFC. Going round the table and seeing each individual relive the glory days really put into perspective how big the AIL once was.
"The match in the early 90's against Shannon in a sold out Thomond Park when Keith Wood and Brent Anderson were playing with us was special, recalls Hayes.
The Cork Con game too here in 1990 in the first year of the AIL, even though we lost was an amazing spectacle as there were 11,000 people packed into the ground".
A familiar theme of interviewing the Limerick clubs appears to be the legendary trips 'up the North' for games.
Explaining it to the delight of the room, Geraldine Morrissey remembers a particular trip well.
"We took a train to the North in the 93/94 season and shared it with Young Munster. We were playing Instonians and the Cookies were playing Bangor. Both teams had their work cut out but we ended up winning, and the Young Munsters match ended in a draw.
"On the way back down from Belfast the train had a blue and white flag on the front on one side, and a black and amber flag on the other side. We stopped at an off license before the border and literally cleared it out.
"The drink was flowing through all the carriages of supporters on the way back down from Belfast and when the customs man got on for the border check he didn't even bother getting out his book. By the time the train got to Colbert station people were literally falling out of it!"
Handbags in Kilfeacle
In one of his memories as a player, Prendergast remembers the time he was Captain of the Junior team in the mid 90's.
"We went out to Kilfeacle and there was a few scraps towards the end of the first half. At half time we were in the dressing room and I remember saying if there's any more digs 'we're all in'.
"Richard Wallace was playing that day and he was like rubber, you couldn't catch him. I pulled him aside and said 'all this thing about the senior team, you can forget about the f**king senior team- this is your level.
"The second half kicked off and there were more handbags near the touchline and Richie hit the deck.
"Then it properly kicked off because we thought he had gotten a dig but it turns out that Wallace actually got a shock off an electric fence!
"I told him after he'd never make it and 18 months later he goes on to wear the green of Ireland and then play for the Lions!"
With all sport you take the good with the bad.
As Downes puts it, 'you have to lose one to win one, and we certainly did that'.
What stuck out most for the group were the early defeats on the biggest stage.
"We lost two all Ireland finals to Con and Shannon in the early 90's and they were devastating blows. We lost senior cup finals too, but we have won our fair share of silverware since then.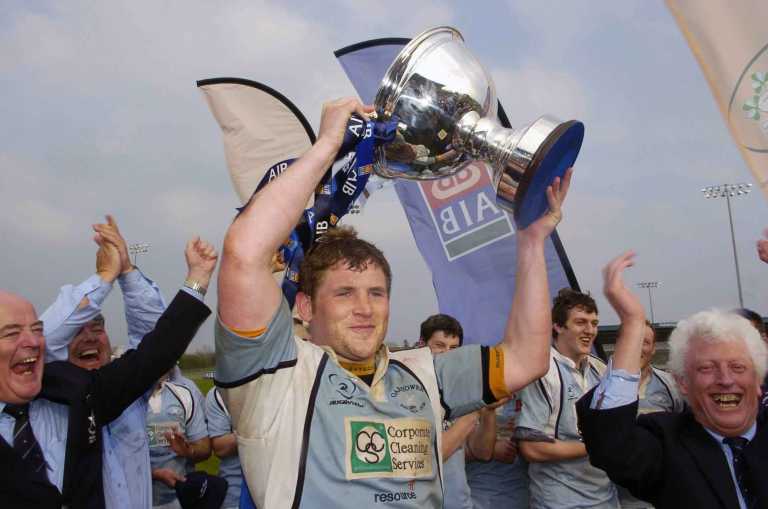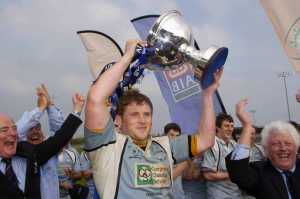 Paul Neville lifts the AIB Cup aloft in 2012 (Photo credit: Sportsfile)
As Limerick as it gets
One tale that is too good not to mention involves a certain Steve McIver and his first encounter with Limerick rugby folk.
"McIver came down to play with Garryowen in the 90's and he ended up working with Gerry O'Malley in insurance. He arrived down not having played in Limerick before and after a game the lads would go out on the piss and that was all well and good.
"Monday morning came around and he put on his suit, and had his briefcase in hand en route to work. After stopping off in Lily Martins, he buys the only Irish Times in the shop and puts it under his arm.
"Coming out of the shop an elderly lady stares at him and asks, 'are you young skiver'? To which he replies, 'Yes madam'. She continued, 'The skiver that plays with Garryowen?' To which he replies, 'yes madam, why?
To which she stated "I hear you can't pass off your left!"
What's to come
Looking ahead to the new season, Captain Neil Cronin is excited after maintaining their division 1A status last season.
"Last year the target was staying in the division, and we narrowly missed out on the playoffs. From that context we held our status and were hoping to drive it on this year"
Cronin believes that the combination of new forwards coach Denis Leamy coupled with head coach Conan Doyle will bring a new edge to his team.
"Conan's experience playing and coaching will be very beneficial to the younger lads and Denis will be able to bring an edge to the pack which I think has been lacking in some cases in recent years".
Being a Garryowen Man
Taking everything into account from all five people in the interview it is clear that Garryowen RFC is a special place.
Dave Hayes summed it up perfectly:
"I joined here as an 18-year old, and 40 years down the line I'm still here. Garryowen is my life and if you took me out of it I wouldn't know what to do.
This is the community where I belong and I always want to see the club up there with the best, but if it goes the other way I'll be there too".
by Daragh Frawley
daragh@limerickpost.ie