Start the weekend early … like right now!!! this Tuesday Aug 16 for some outstanding rock indie acts from US and closer to home at Dolan's tonight
Gun Outfit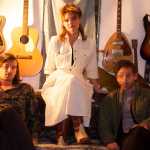 FORMED in 2007 in Olympia, Washington guitarists/ vocalists Dylan Sharp and Caroline Keith plyed their trade taking inspiration from SST era Husker Du and Dinosaur Jr.
Their 2009 debut album drew comparisons to Sonic Youth which gave way in subsequent records to a more country/ lo-fi approach.
In 2012 the band left the east coast for Los Angeles, signed with indie label Paradise of Bachelors.
2015's album 'Dream All Over' is an elegant understated indie/alt country. The wonderful lead track 'Gotta Wanna' sounds as close as you will ever get to what Sonic Youth gone country might sound like.
Seoda Shows are bringing Gun Outfit to Limerick and it is their only show outside Dublin before the band continue on to their UK tour. Gun Outfit play Kasbah Social Club this Tuesday August 16.
Fonda
SUPPORTING Gun Outfit is Limerick/ Galway/ Glasgow band Fonda. The band are Liam O'Connor guitar and vocals, Laura Kelly bass and vocals and Patrick Bourke on drums. The trio are only into their second year and released the fine debut EP 'Social Services'.
But it is the new release 'Dreaming' from their upcoming second EP that has raised the bar by some distance.
The song was recorded by Jack Glacken and mastered at WAV Mastered by Richard Dowling. The video was filmed in Limerick's legendary indie haunt Costello's Tavern.
If Fonda can make writing a song as good as 'Dreaming' look this effortless, what more gems do they have in the making?
Well worth getting down early to Kasbah Social Club this Tuesday August 16.