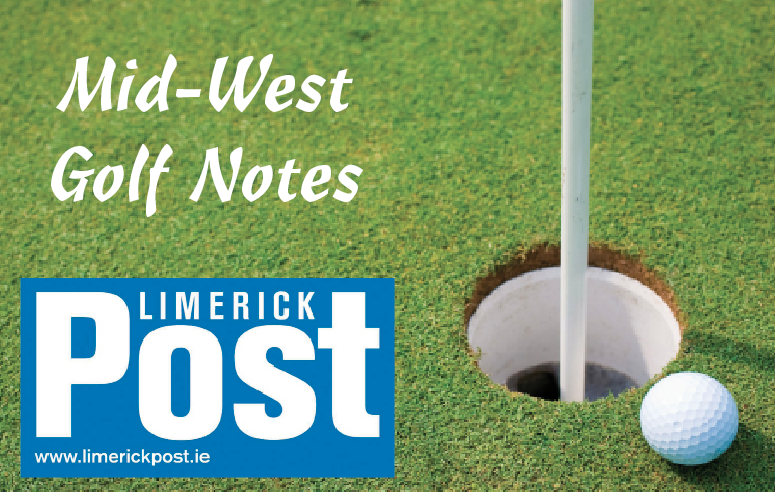 Adare Golf Club
Bank of Ireland Cup played at Mount Juliet last Saturday, 20th August. Result : Winner – Pat Barriscale 38 pts, 2nd –  John Van Veen 37 pts, 3rd – John Doheny 35 pts. CSS: 35 pts
Adare Manor Golf Club
Thursday 18th August 18 hole stable ford sponsored by Mary O Brien Nora O Brien and Carmel Collins, 1st Margaret Keyes 42points, 2nd Jean Ryan 39 points, 3rd Bernie O Dea 36 point's, Front 9 Una Finn 20 points back5, Back 9 Mary Dore 19 points back 5. Mens: Open Singles Tues Aug16th 1st Padraig Kelly 40 pts (b9), 2nd Harry Fehiley 40, 3rd S Brennan 39. Best Gross Aaron Howard 31. Fixtures August 26&27 Presidents Prize, Sunday August 28 Atlantic Fleet cup, Tues Aug 30th Open Singles.
Ballykisteen Golf Club
August Medal : 1st Lauren Kelly, 2nd Mgt O'Brien, 3rd L.C. Mary Toomey. Senior Ladies : 1st Paula Carroll, 2nd Esther Fearnley, 3rd Catherine Murphy. Weekly Competition, 1st Shelia Hammersley, 2nd Lauren Kelly, 3rd Esther Fearnley. The following are the results from the open day: 21st August. 1st place – 116 pts – Bill Hanley, Aileen Beary & Mary Beary, 2nd place – 110 pts – Pat, Maurice & Thomas Irwin, 3rd place – 106 pts – Martin Dineen, Eddie Fitzgerald & Paddy Moloney, 12 hole Winners – Ursula Madden, Una O'Hora & Cathy Meehan. Congratulations to all our winners and thanks to everybody who supported the open day.
Ballyneety Golf Club
Men's Club : Creative Gardens Cup sponsored by Brian Murphy Ballyneety Co-Op, 1st David Quinlan 42 Pts, 2nd Neil Kiely 41 Pts, 3rd Con Relihan 40 Pts, Best Gross: Denis Healy. Ladies Club : Club Classic Qualifier Sponsored by Ladies Club, 1st Jingkie Fogarty 36 Pts (count back), 2nd Jackie Hayes 36 Pts, 3rd Bernadette Carr 35 Pts. Seniors Scramble Winners, Tim Smyth, Bud Leonard & Michael McCarthy. Fixtures : Fri/Sat 26th & 27th Aug, Men's and Ladies Presidents Prize (Connie Ryan and Asun Smyth) Sun 28th Aug Parent & Child (Father/Mother with son/daughter) 12 hole competition
Casltetroy Golf Club
Men's  Results : August Medal – Sunday 21st August 2016 : Sponsored by: Real Ingredients, 1st Vincent Feeney 68, 2nd John Leonard 69  B9, 3rd John Bermingham 69, Gross John Hadnett 74, 4th Niall Carroll 70, 5th John Nolan 71 B6. Open Singles 17th August 2016, 1st Fergus Harrold 38pts, 2nd Bobby O'Donoghue 37pts, 3rd Cillian O'Brien 36pts.  B9, Gross Brendan Reidy 35pts.  Ladies Results : 18 Hole Singles Stableford  – Tuesday16th August, 1st Margie O'Shea 37pts, 2nd Florence Ryan 35pts.  B9, 3rd Pam O'Sullivan  35pts. B1, 4th Shirley Real 35pts. Best 36 H/Cap Anna Martin , 9 Hole Comp  Maria McAdam. Senior Results : Millennium Cup Round 5  – Thursday 18th August, 1st Tony Loughran 43pts, 2nd Larry Hayes 39pts, 3rd Eugene Hanrahan 38pts. B9, 4th Sean Meegan 38pts.
Dromoland Golf Club
Members 18 Holes Singles Stableford, 1st Paul O'Brien 36pts, 2nd John Casey 36pts. Monday August 15th – Fourball Betterball, 1st David Fitzgerald & Eoin Garrahy 44pts, 2nd Colin Ryan & Brian Arthur 42pts, 3rd Colm Fitzgerald & Darragh Kirby 39pts. Tuesday August 16th – Junior Boys Singles Stableford, 1st Gary Lane 41pts, 2nd Cian Lahiffe 39pts, 3rd Conor Brannock 39pts. Tuesday August 16th – Ladies Team of Four, 1st  Deirdre Cahalan, Liz McKeever, Carmel Vekins & Helen Leo 83pts, 2nd Cora O'Toole, Maeve McMahon, Dolores Fox & Carmel Ronan 82pts, 3rd Ann Creamer, Marian Keane, Karina Doyle & Geraldine Ryan 80pts. Wednesday August 17th – Four Person Scramble : 1st Paul Coote, Eoghan O'Loughlin, Eric Murrihy & Damien Sexton 53.5 strokes, 2nd Tom Frawley, Jean Colleran, Brian McMahon & Paul Cusack 55.3 strokes, 3rd Eoin Glynn, Ross Darmody, John Mulcahy & Gary Walsh 57.3 strokes. Thursday August 18th – Team of 4, 2 scores to count, 1st David Casey, Brian Casey, Michael Casey & John Fahy 97pts, 2nd David Fitzgerald, Kevin Corry, Mark O'Loughlin & Eoin Garrahy 94pts, 3rd Dave Tyrell, Cian O'Gorman, Paul Hammond & Patrick Legros 85pts. Friday August 19th – Open Singles, 1st Stephen O'Callaghan 35pts, 2nd Kyle Neylon 35pts, 3rd Gavin O'Reilly 33pts. Sunday August 21st – Team of 4 Modified Texas Scramble, 1st David O'Connor, David Connolly, Eoin Ryan & Hugh Bourke 99pts, 2nd Philip Madden, Brian Mooney, Joe O'Brien & Denis Hackett 98pts, 3rd Michael Scroope, Marie Scroope, Tommy Gaynor & Margaret Gaynor 94pts.
East Clare Golf Club
Open Singles 13/14/15, 1st- Eddie Bourke, 2nd- ciaran purcell, 3rd- Ben Rittiwiger. Mon 15th Open singles, 1st- Finn Looney, 2nd- Harry sheehy. Tuesday16th- Seniors Open singles, 1st- Ger daly, 2nd- Jackie McHugh, Wednesday 17th Mens Fourball, 1st- Sean Kelleher/Seanie O'brien, Thursday 18th Open singles, 1st- Daragh Enright, 2nd- Michael lambe, 3rd Pat stritch. Friday 19th Team of 4. Winners : Ger Hogan/Sean kelleher/Paul Madden/teddy O'Hanlon.
Limerick Golf Club
Competition- August Medal, Sponsored by Mrs. Noreen McManus, Date- 14th & 16th August, 1st- Grainne Donovan 72 nett, 2nd-Siobhan Conway 73 nett. Gross- Grainne D'Alton 81 gross. Category 1 (0-16), Jane Cowhey 73 nett, Category 2 (17-27), Paula Comber 74 nett, Category 3 (28-36), Eva Naughton 82 nett. 9 Hole Competition  Caroline Harrington 12 pts. Mens: Corboy Cup : Results of Sunday 21st Aug 2016 , 1st Alan Andrew McNamara 67 nett, 2nd Dermot Gallagher 68 nett, BG Gerry Reeves 75 gross, 3rd Dan Clancy 69 nett, 4th Paddy Power 70 nett, 5th Patrick Naughton  71 nett
Rathbane Golf Club
Thursday 18th August Senior Captain Seamus Mc Namaras Prize, 1st Frank Coughlan 42pts, 2nd Oliver Coffey 40pts, 3rd Seamus Reidy 38pts, 4th Brian P Fitzgearld 37pts, 5th Christy Downes 36pts, 6th Noel O'Herlihy 36 pts. Catt 1  James Murphy 2nd Peter Stringfield, Catt 2  Sean O'Dwyer  2nd Willie Cussack, Catt 3  Tom Bond 2nd Noel Lyons, Nearest to pin Paul Kennedy. Longest Drive Pat Hannon. Sunday 21st August President Eddie Costelloe's Prize : 1st Robert Bailey 38pts, 2nd Seamus O'Driscoll    37pts, 3rd Brian Fitzgearld 35pts, 4th Fred Hofler 34pts, 5th Seamus Reidy 33pts, Gross John B O'Neill, Longest Drive Peter O'Sullivan, Nearest to Pin Philiph Collins. Seniors Prize to Ladies. 1st  Trish Hynes 73 nett, 2nd Trish Costello 77 nett, 3rd  Rita Barry 80 nett.