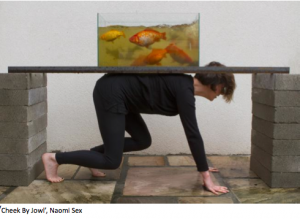 LIMERICK City Gallery of Art at Pery Square is excited about two immediate events taking place there. One is performance, the other belongs to this venue's 'artist in conversation' series.
Each is free to the public, as befits our municipal gallery.
Taking place this Thursday 1 at 6pm and 7pm and on Friday 2 at 1pm and 2pm, 'Cheek by Jowl' is a new performance written and directed by visual artist Naomi Sex. It features Damien Devaney and Darina Gallagher and "presents a series of layered, highly descriptive vignettes".
This piece was awarded The Touring Visual Arts Award 2016 by Arts Council and The Final Artists' Work Scheme. Book on www.naomi-sex.com
Move ahead to Saturday September 3 at 3pm to hear Dr Marian Fitzgibbon in conversation with painter Alice Maher. Her work is on show currently with other visual artists in a collection called 'The Lady' that is curated by Fitzgibbon.
This weekend's subject will be a number of works from this exhibition including Maher's own 'Beautiful Mouth' which is based on Oliver Sheppard's bronze 'Finnbheal' which is in the gallery's Permanent Collection.
Showing works by artists of the calibre of Kathy Prendergast, John Lavery and Deirdre Power, 'That Lady' finishes up on Sunday 4 next.