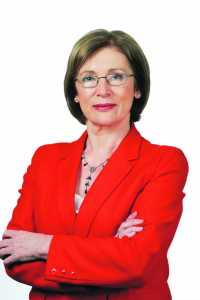 LIMERICK Labour Party TD and former Housing Minister Jan O'Sullivan is of the view that empty houses can't be tolerated while so many are without a home.
Speaking ahead of the publication of the Focus Ireland 2015 Annual Report, the Labour Party spokesperson on Housing and Planning called on the Government to use the increasing number of vacant properties as a solution to the growing housing crisis.
"The 2016 Census tells us that there are more than 198,000 vacant dwellings in Ireland, excluding holiday homes, while the number of people homeless is growing day by day. While building new houses, in both the public and private sectors is, rightly, being accelerated, existing vacant dwellings can, and must, be a quick win and a real solution for those families who have no home or are at risk of losing theirs," said Deputy O'Sullivan.
"The census figures, she said, represent 9.8 per cent of overall housing stock while 4-5 per cent is the norm in a functioning economy.
"We need to get to that norm," she added.
She is putting forward eight ways in which the Government can use the vacant units to solve the crisis.
These include: Carrying out the audit that they promised in their own Action Plan without delay to find out exactly where the vacant properties are and who owns them; the continuation of the programme to bring 5,000 vacant council homes into use; the reformation of the Living City and Living Over the Shop incentives in the October budget.
Deputy O'Sullivan also wants to see an increase the fund allocated to the Housing Agency, as proposed in Focus Ireland's pre-budget submission, to acquire vacant properties for homeless households.
"The €40million figure announced in 'Rebuilding Ireland' is welcome but as Focus Ireland point out, a figure of €210 million would allow the promised 1600 units to be delivered by mid-2018. While there is no doubt that only a functioning construction sector will deliver the number of homes needed on an on-going basis, using the houses we have has to be an immediate priority, "she concluded.
by Alan Jacques