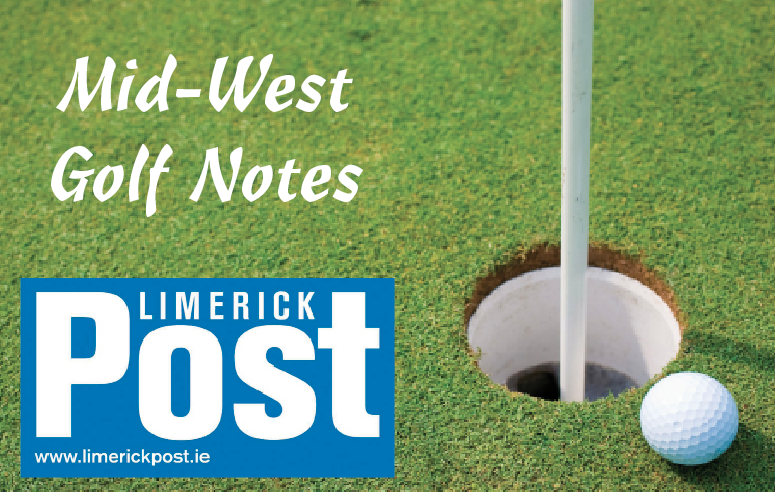 Adare Manor Golf Club
UNFORTUNATELY due to poor weather, Saturday's Dunraven Cup had to be postponed to a future date. Open Tuesday singles Aug 30: 1st Damien Harrington 40 pts(b9), 2nd Eddie Kiely snr 40, 3rd Eoin Moran 40. Best Gross N Mann 33pts. Fixtures Tuesday Open Singles, Sun September 11, Hamper.
Adare Golf Club
LADIES President's Prize Winner: Stephanie McGrath 35pts (cb) Runner Up: Candy Cheung  35pts, Best Gross: Finola O'Donnell 15 gross pts, 3rd place: Chris O'Connor 30 pts, Best Front 9: Kate Fleming 17pts, Best Back 9: Mary Fehily 16pts.
Longest Drive: Stephanie McGrath, Nearest the Pin: Mary Fehily. Mens President's Prize: Winner  Gabriel Cosgrave 43pts Runner Up: Cormac Mehigan 39pts (cb) Best Gross: Eoin O'Connor 36 gross pts, 3rd place: Barry Leddin 39 pts. Best Front 9: Pat Doody 20pts (cb). Best Back 9: Donal Creighton 20pts (cb), Longest Drive: Eoin O'Connor, Nearest the Pin:  Bill Hutch
Ballykisteen Golf Club
WEEKLY Competition August 23: 1st Lauren Kelly, 2nd Catherine English, 3rd Neasa Fahy O'Donnell. Weekly competition August 30: 1st Esther Fearnley, 2nd Catherine English, 3rd Caroline Cussen.
Ballyneety Golf Club
MEN'S Club: Connie Ryan President Prize, 1st: John McCoy 41 pts, 2nd: Mark O'Reilly 40 pts, 3rd: Cronan Garry 40 pts, Best Gross: Matthew Evans 76, 4th: Lee Nihill 40 pts, 5th: James Quin 40 pts, 6th: Timothy Smyth 39 pts, 7th: Darren O'Sullivan 38 pts, 8th Mike Meade 38 pts, 9th: Captain Cathal Godfrey 38 pts, 10th: Liam Dooley 38 pts, Back 9: David Neenan 22 pts, Front 9: David Collopy 22 pts, Past President: John Keogh 37 pts Seniors: Danny Halpin 36 pts, Over 18: Ger O'Mahony 37 pts, Guest: Dave Cusack 35 pts. Nearest Pin: Cronan Garry. Longest Drive: Padraig Pearce.
Ladies Club: Asun Smyth President's Prize, 1st: Ann Newcombe 44 pts, 2nd: Eithne Hehir 39 pts, Best Gross: Zita Pearce 21, 3rd: Dolores Curtin 36 pts, 4th: Maura Mulcahy 35 pts, 5th: Candy Cheung 34 pts, 6th: Yvonne Sheahan 34 pts.
Castletroy Golf Club
MEN'S Results, Open Singles August 31: 1st Cillian O'Brien 39pts, 2nd Paul Hogan 39pts.  B9, 3rd Aidan Manidi  Mountrath GC 39pts. Gros Andrew McCormack 39pts 4th Matthew Ryan 37pts.
Ladies Results: Singles Stableford   – Tuesday August 30, sponsored by Lloyds Pharmacy: 1st Ann McCarthy 36pts. 2nd    Yvonne Cassidy 35pts, 3rd Olive Frost 34pts. B9, 4th Rose Corcoran 34pts. B9 5th Aine Quinn 34pts. 9 Hole Competition: Charlotte Murphy 14.
Lady President's Prize – Sunday September 4, Mrs Olive Frost: 1st Eithna Leonard 40 points, 2nd Marion Cummins 38 points, Best Gross Shirley Real 35 points, 3rd Sarah Vaughan 37 points (back 1), 4th Ber Murphy 37 points (back 6), 5th  Jacinta Cunneen 37 points (back 6), 6th Shelley Forde 37 points (back 9), 7th Fiona Corbett 37 points, 8th Maeve Skelly 36 points, 9th Deirdre Kiernan 35 points, 10th  Mary Quinlan 34 points.
Front Nine Cora Lynch 20 points, Back Nine Mary Byrne 21 points. Best 36 H/Cap Alanna Fogarty, 9 Hole Comp. Kate O'Sullivan. Senior Results: Team of 3 14 Hole Scramble – Thursday September 1: 1st George Staunton, Brian Byrne and PJ Fitzgerald 39pts. Mixed Foursomes. Semi Open Mixed Foursomes – Friday  September 2, sponsored by On the TEE Catering: 1st Tony and Ena Fitzgibbon, 2nd Eimear Costelloe and Mark Campbell, 3rd Chris and Ber Murphy.
Dromoland Golf Club
18 Holes Singles Stableford: 1st Colm Hayes 39pts, 2nd Dermot O'Neill 38pts, 3rd Brian Foudy 38pts, 4th John O'Shaughnessy 37pts. Senior Ladies Monday August 29: 1st Breige Scanlan and 2nd  Ber McDermott.
Limerick Golf Club
COMPETITON, President's Prize Terry Clancy – Ladies results form August 26th/ 27th/28th: 1st Julie Newman 36 pts, 2ndJudi Lyons 33 pts Gross Grainne D'Alton 26 gross pnts, 3rd Deirdre Carmody Moore 32 pts, 4th Ann O'Mahony 32 pts, 5th Mary O'Donnell 31 pts. Men's: Competition-Tadhg Kearney Jewellers Open Day, sponsored by Tadhg Kearney Jewellers on August 30: 1st Renza Lyons 38 pts, 2ndBreda Hayes 37pts, Gross Mary Conlon 27 gross points, 3rd Mary O'Donnell 36 pts, 4th Lucy Hayes 34 pts, 5th Deirdre O'Malley 34 pts, Ailish Nagle 34 pts. Limerick Golf Club Singles v Par, results of Sunday September 4: 1st Mick Molloy  7 up, 2nd Tom Griffin 5 up, BG Owen O'Brien 1 up, 3rd Pat Moriarty 2 up, 4th Dermot Gallagher 2 up, 5th Ronan Mulvihill 2 up. CSS: 72.
Rathbane Golf Club
MEN'S Medal: 1st Barry Lipper, 2nd Paul Duhig, 3rd   Brian Fitzgerald, 4th   Eddie Power, 5th John Byrnes, Best Gross Seamus O'Driscoll. Ladies September Medal: 1st Trish Costello 73 nett, 2nd Lady Captain Mary Lipper.   82 nett Mary's Captains prize takes place next week end September 11. Seniors  – Team of 3, Tony Lynch, Mick O'Callaghan and Seniors Captain Seamus McNamara.