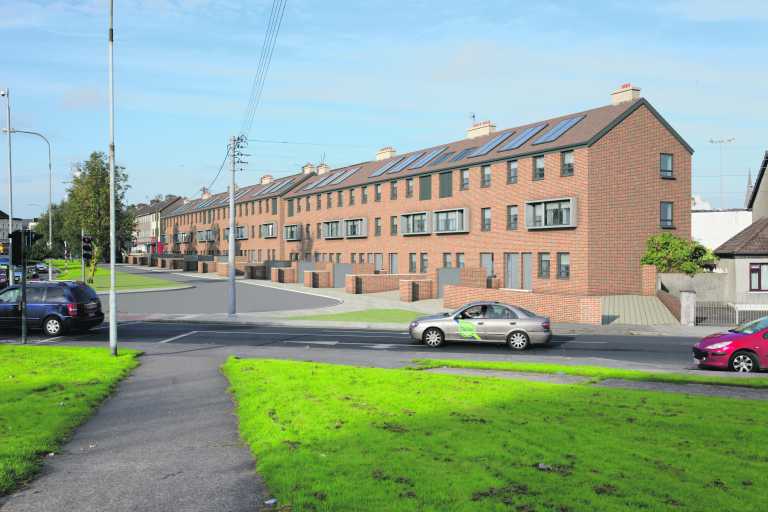 NEW tenants are due to be in their homes at the Hyde Road apartment complex in Limerick City within 12 months.
Refurbishment of the complex has started following the signing of contracts between Limerick City and County Council and Clúid Housing and the development will include 20 apartments and associated ground works and landscaping.
The scheme will comprise of seven two-bedroom apartments, nine two-bedroom and four three-bedroom townhouses. New tenants are due to be in their homes within 12 months and will be nominated by Limerick City and County Council.
Mayor Kieran O'Hanlon said that the development marked another step along the road of providing excellent quality homes for the people of Limerick.
"There is a long and happy history of families growing up in the complex and I'm delighted families will be back again living there in the coming years," he said.
The Council's acting director of Social Development, Seamus O'Connor said the Hyde Road site was a strategic location for the provision of high quality housing, close to all public amenities and the city centre.
"The re-development, which is part of the Limerick 2030 Economic and Spatial Strategy, is just one phase of the rejuvenation of the area around Colbert Station, making it a more attractive place to live, for visitors but also for the people of Limerick," he explained.
"Limerick City and County Council is delighted to have partnered with Clúid Housing on this project.  They have an impressive track record in providing affordable and quality housing across Ireland, enabling people to create homes and thriving communities."
According to chief executive of Clúid Housing, Brian O'Gorman, partnership is at the heart of this refurbishment project.
"It is the combined efforts of Limerick City and County Council with Clúid that will deliver this project. We are excited to be involved in such a high profile development. We hope this project will be seen alongside the precinct works to Colbert Station, to continue to enhance this important area. Such projects regenerate the strategically important city of Limerick and act as a catalyst in which the city leads the regeneration of the entire region," he explained.
by Alan Jacques