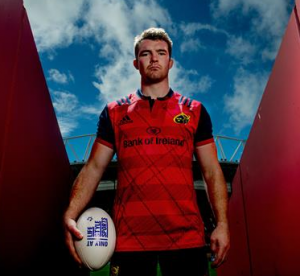 FOLLOWING 51 weeks out of action, Munster Captain Peter O'Mahony, is excited and maybe a little nervous about his return to the field. He sat down with PostSport this week to chat about his injury, his rehab, his new daughter and more.
Good to be back?
We will see. Hopefully over the next fortnight, I will have to get some gametime somewhere to put myself up for selection at some stage.
You always seem like you are an intense individual, was this break the hardest thing to do?
It has 100 per cent, it has been. I have dealt with it quite well myself, not just around the squad but at home as well. I was happy enough that it was a long-term injury so I prepared myself for that. But the last six to eight weeks was tough because I was just on the edge and nearly there.
How did you deal with it all?
It was easier for me, the fact that it was a really long-term injury. It wasn't a three weeker, or four weeker, that I missed the rest of the World Cup. When it happened, my family said that night that I was really happy, normally I would be very cranky about injuries, when you get a four weeker or six weeker. You would miss some important stuff. I was happy enough, not that I had done as much as I could. But that was me for a few months. I was happy enough with that. I took that approach, but the last couple of weeks have been great in some ways. I was getting back in. But even just back training as a group. Training on your own is tough when you are involved in a team sport. And just getting back in in the last two months, back involved in the squad time schedule was a big step forward for me and gave me a lot of motivation to kick on and get in full training.
How did you kill time?
I have plenty of pastimes outside of rugby. I had a little daughter in April as well, first one so I was kept on my toes with her. That was probably good timing for everyone. The fact that I was around a bit more with that. I have plenty of pastimes so I wasn't hanging around at home.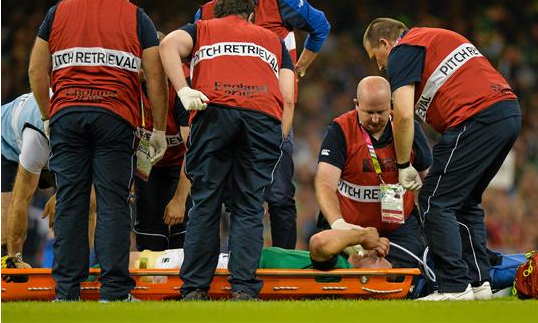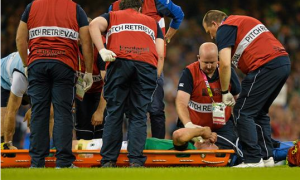 Does this break make you even hungrier for Munster action?
It's great. It's funny when you are being selected all the time and you are in every session. You take it for granted. But now every time for the last two or three weeks when I have lacing up the boots to go out and do a full session it has been really exciting for me and something I would like to continue in my mindset before I take the training pitch. Just enjoying it and enjoying the feeling of being in the dressing room and being ready to go with the squad.
Was there some trepidation about coming back, at the start even, that first hit?
It will take me probably another couple of weeks for that kind of thing. I haven't played, there is only so much you can simulate in training. It will be me getting out there now and throwing myself about and seeing how I get on.
Will fans see a more calm, controlled, chilled out Peter O'Mahony?
You might, you will have to wait and see. You'd be surprised when you are out there. It's grand sitting down to have a cup of coffee but when you are out there it's a different kettle of fish.
Has the form of the current backrowers been down to your impedning return? (Asked in jest)
No it's certainly down to their talent to be fair. Jack O'Donoghue and Dave O'Callaghan for me have been outstanding in the last four or five weeks. I don't have to talk about CJ, he is playing really well for the last two or three years. It has always been bred in Munster that there is competition and for whatever reason there is a bizarre amount of quality, talent wise there as well. All you can do is feed off it and that is certainly what the lads have been doing and I have been doing in the last few weeks watching them, and training with them in the last couple of weeks. It is great to be training alongside such quality and pushing yourself with them.
I bet your much battle hardened shoulders have enjoyed the time off?
I got a lot of work through my shoulders and upper body and traps and neck and all of that. It gives you an opportunity. Up to this injury, all of my other injuries have been upper body. It was nice to get a real good couple of months through my upper body and hopefully that will stand to me over the next couple of years.
Rassie's gameplan looks tailor-made for Peter O'Mahony. Are you excited by it?
Yes, I am looking forward to getting out there. 100%. Training has looked real enjoyable which is great and has been enjoyable for me since I have been out there. I am a big believer in what he is trying to do, a big believer in his gameplan. He has a huge amount of knowledge and he is not the kind of guy who will throw it at you and say, 'go and do it.' We will sit down and go through it. They explain everything as to why we are doing it. I think our understanding in general is better as a squad of what we are trying to do and I think that makes it more enjoyable.
How beneficial will High Performance Centre in UL be and as how will a single base impact on you as someone from Cork?
Personally, I will continue to travel up and down. For the club and everything it is incredible the difference it has made over the past two to three weeks. Personally, I come up and down. I have a young family. I have recently bought a house in Cork so Jess has my parents and her parents living close, so to have her up here pretty much on her own with me being out training all the time with no help around, it is a lot easier for us to stay where we are.I come up on a Monday morningand go home on a Wednesday. We normally training on a Wednesday morning for those reasons. I would be home by 2pm on Wednesday, so Wednesday evening and Thursday is time off.
We do a lot of our overseas travel from Cork because of the flights, so we travel from there or else it's captain's run and play. It is very manageable, it has been that way over the past few weeks.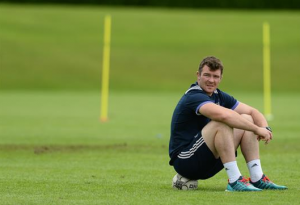 The impact it has made on the squad is incredible. It's funny. I think if you ask any of the lads what they have enjoyed the most and it is just having a locker to yourself, having your own peg in your own dressing room where you can leave your boots, your recovery stuff or your supplements or whatever you need to leave there. It has got a home and you don't need to be dragging stuff around the whole time and it's made life a lot easier. That's a small thing.
But in the bigger scheme of things we are much more time efficient now, not that we are doing a huge amount more training, but we were always panicking a bit to get meetings in here and there. Now it is just makes life a lot easier. It is more time efficient and it is just a lot easier. It's hard to explain.
Can you ease yourself back into a match situation or do you have to go full on for the time you're on the pitch?
I think you have to go full on, not just for your head, but for your body to prove to your head that your body can do it. It has been so long for me now that there will be part of me that will be doubting me, but I know deep down that I have done all the training now that will alow me get out there and be fine, but I suppose you just got to take a few knocks and bangs and things, throw yourself about, let your head know that your body is ready to go."
It's an exciting time to be coming back?
Yes it is, it's an exciting time of the year. I would probably prefer to have some more time under my belt before the new few weeks, but hopefully if I get out there at some stage over the next fortnight that I will be able to show some form which is obviously very important at the moment."
What are realistic ambitions for Munster in Champions Cup?
Look, we obviously haven't gotten out of our group for the past two seasons. As you know, we do take it game by game and you hear us talk about that all the time, but rugby has gotten to a stage now where you cannot look past the following week, so we have Zebre, Leinster and if we are talking about Europe then Racing 92. That is where we are looking to. Long term goals, as I said, we haven't gotten our of our group in recent seasons, so we will start with that. But to start with that we have to start with Racing away. That is what we will be looking for after we finish up against Leinster on Saturday week.  That is all our focus will be on. We won't be talking about 10 weeks down the line or Christmas time. We will be talking about how to go about Racing 92.
Is Chicago and the All Blacks on your mind?
Jeez, I would love to tour. I love touring. It is the best part of rugby in my opinion, so I would love to tour, but I have got to play the next couple of weeks at some stage. I have got to find some form over the next month, I suppose, and see what I can do performance wise, hopefully. I have been in the last couple of (Irish) camps. We have got together just to keep up date, really.