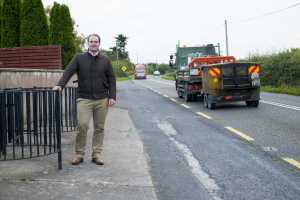 TRANSPORT Infrastructure Ireland (TII) continues to shun the decency and goodwill of the people of Kilcornan.
That's the view of independent councillor Emmett O'Brien who was commenting this week on traffic safety at Kilcornan National School.
"Over the past year, I have been lobbying Limerick City and Council and TII to install traffic route lighting in the vicinity of the school and the Ger McDonnell all-weather playing facility and Kilcornan Community Centre as well as enhanced traffic calming and safety measures," Cllr O'Brien explains.
"This is one of the few, perhaps only national school on a national road that does not have any traffic calming measures and it is high time that the safety of the children playing around the school and the all-weather facility is recognised."
Cllr O'Brien says that while the TII have told him there is little collision history at the school, they accept there is a case for giving the area around the school and the playing field an "urban" treatment with footpaths and street lighting. This, he says, will highlight to drivers that the area is a centre of activity where slower speeds are appropriate. 
"The simple reason why there have been no accidents at the school entrance is down to the goodwill of Kilcornan Community Council and the local primary school in allowing cars come into the safe confines of the car park next to the all-weather facility and avoid traffic on the N69.
"In other words, the people of Kilcornan are victims of their own politeness and the NRA is showing no regard or no interest for the residents of the area, school children and road users," he told the Limerick Post.
"It is high time for the TII to play ball and meet the residents' concerns halfway. Imagine if the car park was not there. Imagine the traffic delays on the N69. Imagine the risk to the safety of school children. Does the TII have any regard for this?
"The Kilcornan Community Council and the parents of children at the national school have been quite long enough and they now expect action from the TII and support from their other local politicians."
A spokesman for TII responded, "Transport Infrastructure Ireland (TII), formerly the NRA, will work directly with the local authority on matters relating to national roads in their jurisdiction."
by Alan Jacques