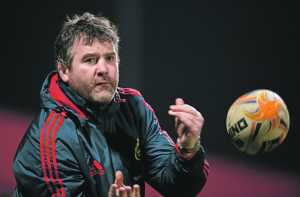 Books of condolence will opened across Munster at noon today in memory of Munster Rugby legend Anthony Foley.
The seven local authorities in Munster (Clare County Council; Cork City Council; Cork County Council; Kerry County Council; Limerick City and County Council; Tipperary County Council; Waterford City and County Council) will open books of condolence to allow rugby supporters in the province express their sympathies on the sudden passing of one of Munster's most faithful and best players.
The Irish flag will also be flown at half mast outside the local authority offices.
Limerick Mayor Kieran O'Hanlon said he was devastated to hear of the sudden passing of the Munster Rugby coach.
"It was with great shock that I learned of the tragic and sudden death of Munster legend Anthony Foley.  He was a giant among men and a true gentleman.  He will be sadly missed.
"My thoughts and prayers and those of the people of Limerick are with Anthony's family at this terrible time."
"On behalf of the people of Limerick I would like to extend our deepest sympathies to this family.  All of Limerick is proud of Anthony's achievements, whether it was lining out with St Munchin's College, Shannon, Munster or Ireland."
"Anthony was a true son of Limerick, and Limerick is in mourning for one of their own."
"His career speaks for itself.  He was admired by everyone when he put on the red jersey of Munster.  Tens of thousands of people cheered when Anthony lifted the Heineken Cup aloft in Cardiff in 2006.  It was a long awaited and anticipated victory and Anthony guided the team through it brilliantly."
"He was always a powerful but steadying influence on the pitch, whether in the red of Munster or green of Ireland, while off the pitch he was a thorough gentlemen."
"He loved rugby and rugby loved him…May he Rest In Peace"